Each year at Salute to Women of Achievement, YWCA of Greater Atlanta celebrates dynamic women leaders throughout Georgia whose professional and civic lives embody our mission to eliminate racism and empower women.
Read below to learn more about this year's honorees.
---
2018 Woman of Achievement 
Erica Qualls-Battey serves as Area General Manager for Marriott International overseeing the Atlanta Marriott Marquis, Atlanta Airport Marriott, Renaissance Atlanta Airport Gateway, Atlanta Airport Marriott Gateway and Atlanta Marriott Suites Midtown. A recognized leader in the hospitality industry, she is responsible for ensuring guest and associate satisfaction, managing the hotel's finances and assets, owner relations and fostering business alliances that promote Marriott International.
Previously, Qualls-Battey held key positions in the company in various disciplines, including finance, hotel operations, and human resources.  Prior to her current role, she served as General Manager, Hotel Manager and Director of Human Resources at the Atlanta Marriott Marquis and General Manager of the Residence Inn by Marriott in Sunnyvale, California.
An active member in her community, Qualls-Battey is involved in national and local community organizations. She is an Executive Board of Director for Zoo Atlanta, YWCA of Greater Atlanta, Metro Atlanta Chamber of Commerce, Atlanta Convention & Visitors Bureau, Atlanta Hotel Council, Atlanta Business League, International Women's Forum Georgia, Grady Health Foundation and Committee for a Better Atlanta. She serves on the Board of Trustees for Chick-Fil-A Bowl. She is a member of Azalea City Chapter LINKS Incorporated.
She has distinguished herself among the very best in hospitality, named Most Admired CEO presented by the Atlanta Business Chronicle, Marriott International General Manager of the Year, Host Hotels and Resort General Manager of the Year, and General Manager of the Year by the Georgia Hotel Lodging Association and General Manager of the Year by Where Atlanta Magazine Silver Plume Award.
Qualls has received numerous awards including the 2016 Atlanta Convention and Visitors Bureau Hospitality Hall of Fame Induction, YWCA Woman of Achievement, Atlanta Business League's Leadership Award for volunteerism, Atlanta's Top 100 Black Women of Influence, Atlanta Technical College Bridge Builder Award, Business to Business Magazine's Women of Excellence and the Apex Award by the Travel Professionals of Color National Association. She is an alumnus of Leadership Atlanta Class of 2010.
She is married and a proud mother and grandmother.  She loves traveling and enjoying family and friends.
---
2018 Academy of Women Achievers
Debra G. Carlton, M.D. –  Associate Medical Director for Care and Service Experience, Kaiser Permanente
Debra G. Carlton, MD, is the Associate Medical Director of Care and Service Experience for Kaiser Permanente, Georgia. She has been with the organization for 27 years. In her dedication to improving the health and well being of Kaiser Permanente patients and Atlanta's communities, Dr. Carlton has served KP in many capacities, including Associate Medical Director of Primary Care and Behavioral Health Operations; Associate Medical Director of Quality; and Associate Medical Director of Informatics.  In each area she has worked to assure that Kaiser Permanente members receive the best care and service possible.
Among Dr. Carlton's achievements have been Kaiser Permanente Physician of the Year, KP Administrative Physician of the Year, and winner of the Atlanta Best Self Magazine Over 40 and Fabulous contest. Her career achievements have been highlighted in The Atlanta Business Chronicle and the Atlanta Journal Constitution.
Dr. Carlton thrives through regular exercise, reading, and volunteering.  She is a triathlete and a member of the Open Hand Atlanta Board of Directors, where she also volunteers to assure that healthy meals are delivered to the people who need them.
Dr. Carlton received her bachelor's degree in Life Sciences from the Massachusetts Institute of Technology and her medical degree from Vanderbilt University School of Medicine. She is board certified in Internal Medicine.
---
Daryll Harris Griffin – President, Accolades Inc. 
Daryll Harris Griffin, a native Atlantan is President of Accolades, Inc. a Marketing firm she founded in 1990. Prior to entrepreneurship, Daryll experienced a distinguished career with Xerox Corporation and also served as  a Public School Teacher.
Daryll holds a Bachelors Degree from Stephens College, and a M.ED  and Reading Specialists Certification from Washington University. Further graduate study has been completed at the Kellogg School of Business at Northwestern University via a scholarship from United Parcel Service (UPS), and at the Amos Tuck School of Business at Dartmouth University via scholarships from Georgia Power Company and The Home Depot.
While building her firm, Daryll has remained steadfast in her commitment to the community.She presently serves as Secretary and past Chair of the Board of Directors of the Atlanta Business League.  She has also co-Chaired ABL's Super Tuesday in its salute to Women Business owners, served as Vice Chair of the Education committee, and co-Chaired the CEO Luncheon. It is fitting that Daryll received the ABL's League Leadership Award for her service.  Daryll has served on the Scholarship Foundation Board of Governors at Holy Innocents' Episcopal School; as a two-term member of the Board of Trustees at Holy Innocents'; chaired the Committee on Trustees and served as a member of the Headmaster Search Committee. She currently serves as Vice-Chair of the Board of the YWCA of Greater Atlanta and is on the Board of Trustees at Stephens College in Columbia, Missouri where she also serves as Board Secretary.   For the past three years, Daryll has served as a Mentor in the Spelman College-Coca-Cola Mentoring Program as well as a Mentor in the Stephens College Full Circle Mentoring program.
She has served as Secretary on the Board of Directors of the GMSDC, a member of the Callanwolde Arts Center Foundation Board, and Wheat Street Charitable Foundation Board. Daryll has served as a two-term President of NSAC Jack and Jill of America Inc., and received a volunteer award from the M.L. King Center for Non-Violent Social Change. She served for a decade as Secretary of the United Sisterhood of Wheat Street Baptist Church, and as Director of Vacation Bible School at Wheat Street where she is a lifelong member. Daryll is a member of Delta Sigma Theta Sorority,  the Leadership Atlanta Class of 2001, Links, Incorporated, and Coninia Ministry of Salem Baptist Church.   She received the Jackie Robinson Diverse Business Partner Award from the Atlanta Braves this spring and  2015, Accolades,Inc. was inducted into the Atlanta Business League Hall of Fame, the only Promotional Products Company in this group of esteemed companies.
She has been featured in Who's Who in Black Atlanta, and received the Outstanding Minority Business Award from the Georgia Association of Minority Entrepreneurs (GAME). Accolades, Inc. was recognized by the Georgia Minority Supplier Development Council (GMSDC) as the 1999 and 2009 Supplier of the Year, and the 2010 NMSDC Regional Supplier of the Year; Accolades was twice featured on the cover of The Atlanta Tribune Magazine in its salute to Top Black Businesses; Daryll is recognized as one of the Top 100  Women of Influence by the Atlanta Business League, and one of the Top 1000 Women in Georgia by Women Looking Ahead News magazine. She has been featured on the cover of Enterprising Women Magazine, courtesy of UPS, and Accolades, Inc. received the "Blueprint Award" from Women Looking Ahead News magazine. Accolades, Inc.  accepted the "Star Supplier" Award from Coca-Cola Enterprises, and she is the recipient of the inaugural Trumpet Awards "High Heels In High Heels in High Places" award; In 2007 Turner Broadcasting System recognized Accolades, Inc. with the "Innovation Award" and the Georgia Women's Business Council, an affiliate of WBENC recognized her with the "Trailblazer Award" . Daryll was recently recognized with the "Inspiring Woman" Award from the WNBA Atlanta Dream.
Accolades, Inc. is a member of PPAI (Promotional Products Association International) where she has served on the Membership Services committee, Leadership Advisory Committee, Education Certification Committee,  Women's Leadership Conference Committee and The PPB Advisory Board.   She has written for PPB Magazine and  quoted in Advantages Magazine – both leading industry publications. She is also a member of the Georgia Association of Promotional Products Professionals (GAPPP) where her son Michael was the first African-America President.   Daryll was awarded the Master Advertising Specialist (MAS) designation the highest level of achievement in the promotional products industry where less than 1% achieves this recognition.  In July, 2013, Daryll was selected for inclusion in a book on leading women in the Promotional Products industry.
---
Elizabeth D. Holder – Chair, Agnes Scott College Board of Trustees
After an early career in banking at First Atlanta Bank, now Wells Fargo Bank, Elizabeth (Beth) Daniel Holder '82 has focused her energies on family, community service, and philanthropy.
A trustee of the Woodruff Arts Center, Ms. Holder is a member of the advisory council of the St. Simons Land Trust and is president of the Kelin Foundation. She served on the board of Atlanta Ballet for more than 10 years fulfilling many roles such as board vice-chair and chair, artistic and executive directors search committee co-chair and Ballet Ball chair. She has also served as a member of a number of non-profit boards including Camp Merrie-Woode Foundation, the Georgia Center for Children and the North Georgia Chapter of the March of Dimes. She was a member of the Georgia Council for the Arts and vice chair of the advisory board for the City of Atlanta Bureau of Cultural Affairs.
Elected to the Agnes Scott College Board of Trustees in 2008, Ms. Holder became chairperson of the board in 2016. As chair of the Board of Trustees, she is an ex officio member of all board committees and is vice chairperson of the Executive Committee.
She is married to Tommy Holder, chairman and CEO of Holder Construction Company. The Holders have two grown daughters, Kelsey and Lindsey.
---
Erika James – Dean, Goizueta Business School Emory University
Erika James is the John H. Harland Dean of Goizueta Business School. A published researcher and award-winning educator with a passion for consulting and speaking, she places an emphasis on what higher education can do to be of service to industry.
Under James' leadership Goizueta remains one of the top business schools in the nation with an upward trajectory in student career success and faculty thought leadership. Her approach includes a consistent call for faculty, staff and students to effectively collaborate, raise the school's influence and garner and effectively steward school resources.
Before arriving at Goizueta, James served as the Senior Associate Dean for Executive Education at the University of Virginia's Darden School of Business, were she was instrumental in starting various Executive Education programs, including the Women's Leadership program. She has served as an assistant professor at Tulane University's Freeman School of Business, and a visiting professor at Harvard Business School. Her academic career includes involvement in diversity initiatives and membership on multiple university councils and committees. James' expertise in workplace diversity and crisis leadership has led to recognition in scholarly journals and mainstream media.
James' sits on the board of the Association to Advance Collegiate Schools of Business (AACSB), the foremost accrediting body in business education. James speaks at numerous conferences in the areas of leadership, organizational effectiveness, change management and diversity. Within the Atlanta community, she serves on the boards of Junior Achievement, The East Lake Foundation, and the Alliance Theater. This community service aligns with her passion for education and advancing women in business.
James is a member of the Leadership Atlanta Class of 2016 and, shortly after becoming dean, was named to the "Power 100" list of Ebony Magazine. She is committed to establishing an equal playing field across gender and race and, in 2014, was honored by the National Diversity Council.
James holds a Ph.D. and Master's degree in organizational psychology from the University of Michigan. She received a Bachelor's degree in psychology from Pomona College of the Claremont Colleges in California.
---
Anne Kaiser – Vice President, Community & Economic Development, Georgia Power Company
Anne Hydrick Kaiser serves as vice president of Community and Economic Development for Georgia Power, leading the company's efforts to recruit new industry to Georgia and help existing industries grow. The department has been internationally recognized as one of the top economic development organizations in the world, bringing more than 136,000 jobs and $29.3 billion in capital investment to Georgia over the past decade.
Kaiser joined Georgia Power in 1998 in the retail sales organization. She held a variety of positions of increasing responsibility, including vice president of Corporate Services, assistant to the president and CEO, and vice president of Sales, with responsibilities for revenue generation and customer satisfaction for 2.3 million retail customers. Prior to her current role, Kaiser served as vice president of Georgia Power's Northwest Region, with responsibility for 15 counties and more than 170,000 customers. Before joining Georgia Power, Kaiser held senior marketing management positions at the accounting and consulting firm KPMG, the Westminster Schools of Atlanta and Alston & Bird, an international law firm headquartered in Atlanta.
Kaiser graduated with a bachelor's degree in public relations from the University of Georgia. She is a graduate of the Advanced Management Program of Harvard Business School and the National Association of Corporate Directors' College. Also, she is a graduate of Leadership Atlanta and the Institute for Georgia Environmental Leadership. Kaiser serves on the board of State Bank and Trust Company. She is chair of the Technical College System of Georgia and REACH Foundation and co-chair of the Alliance Theatre. Additional boards on which Kaiser serves include those of Berry College, Georgia Cities Foundation and advisory board of the Georgia Department of Economic Development.
---
Mary Laschinger –  Chairman of the Board & CEO, Veritiv Corporation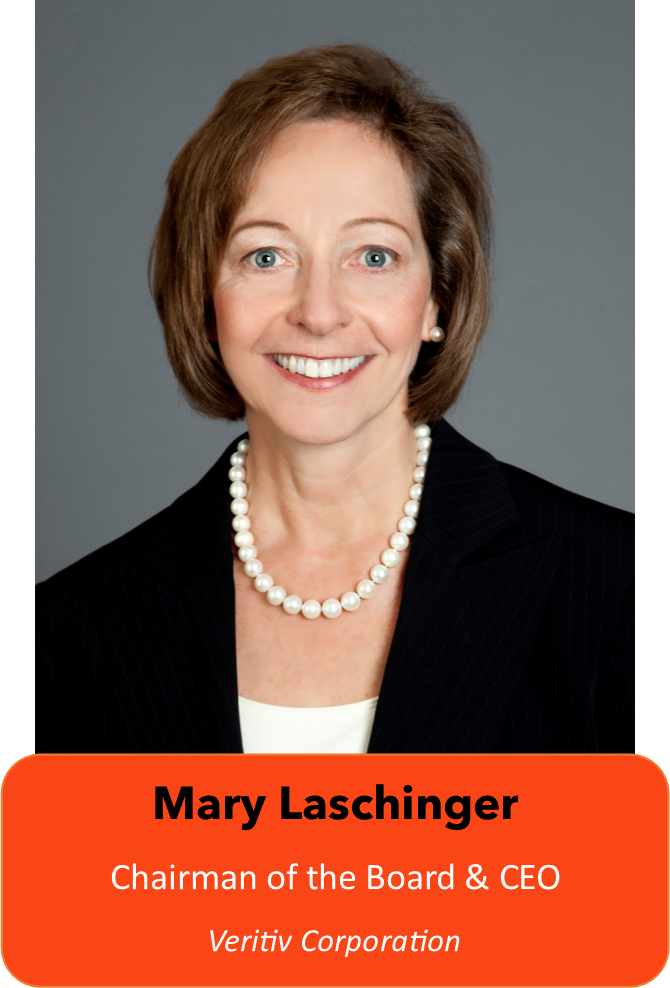 Mary Laschinger is Chairman of the Board and Chief Executive Officer of Veritiv Corporation (NYSE: VRTV), a leading North American distribution solutions company. Previously, Ms. Laschinger served as Senior Vice President of International Paper Company from 2007 to June 2014, and as President of the xpedx distribution business from January 2010 to June 2014. Ms. Laschinger also served as President of the Europe, Middle East, Africa and Russia business at International Paper; Vice President and General Manager of International Paper's Wood Products and Pulp businesses, as well as in other senior management roles in sales, marketing, manufacturing and supply chain at International Paper. Prior to joining International Paper in 1992, Ms. Laschinger held various positions in sales, marketing and supply chain at James River Corporation and Kimberly-Clark Corporation.
Ms. Laschinger is a member of the Board of Directors of the Federal Reserve Bank of Atlanta, as well as the Board of Directors for Kellogg Company, where she serves on the Compensation & Talent Management and Nominating & Governance Committees. She also serves on the Executive Committee of the Metro Atlanta Chamber of Commerce, and is a former lead Director of Ilim Group, Russia's largest pulp and paper company. Ms. Laschinger holds a bachelor's degree in business from the University of Wisconsin-Eau Claire and a master's of business administration from the University of Connecticut. Ms. Laschinger has also completed postgraduate studies in executive management at the Kellogg School of Management at Northwestern University.
---
Wonya Lucas – President & CEO, Public Broadcasting Atlanta 
Wonya Lucas is President and CEO of Public Broadcasting Atlanta where she oversees Atlanta's NPR (WABE) and PBS (PBA) stations. Under Lucas' leadership, WABE has broadened the WABE audience primarily driven by a format change adding more national and local news coverage. WABE is experiencing significant growth increasing the A25-54 demographic by nearly 25% and doubling the size of the African American audience. With a significant increase in local coverage, WABE has also increased meaningful community engagement significantly including hosting a congressional debate for the most expensive senate race in history. She is currently serving as an NPR board member.
Previously, Lucas was President and CEO for TV One where she was the second African-American woman to be President and CEO of a cable television company. Prior to joining TV One, Lucas held several positions at Discovery Communications including Executive Vice President and Chief Operating Officer for Discovery Channel and Science Channel and Global Chief Marketing Officer with responsibility for marketing in 210 countries and over 130 networks.
Prior to joining Discovery Communications in 2008, Lucas served as General Manager and Executive Vice President of The Weather Channel Networks, where she was responsible for corporate strategy and development, strategic marketing for The Weather Channel, Weather Channel radio and weather.com. Before joining The Weather Channel in 2002 as Executive Vice President of Marketing, Lucas held several positions at Turner Broadcasting System, including Senior Vice President of Strategic Marketing for cnn.com, CNN radio and CNN Networks Worldwide, Vice President of Business Operations and Network Development for Turner Entertainment and Vice President of Entertainment Marketing for TNT. Her other experience includes brand management roles for The Coca-Cola Company and The Clorox Company. Lucas began her career with Westinghouse Electric as a Product Engineer.
Lucas is a member of the Rotary Club of Atlanta, International Women's Forum, Leadership Atlanta, Metro Atlanta Chamber, and the Atlanta Business League. Lucas serves on the boards of Girl Scouts USA (2nd Vice President/Executive Committee), National Environmental Education Foundation (Fund Development Chair), Leadership Atlanta, Georgia Tech Advisory Board, Georgia Tech College of Engineering, Girl Talk and the Children's Museum of Atlanta (Chair). She is a also a member of the Links, Inc. and Jack & Jill of America, Inc.
Lucas is a graduate of the Georgia Institute of Technology with a B.S. in Industrial and Systems Engineering and The Wharton School at the University of Pennsylvania with an M.B.A in Finance and Marketing. She is the proud mother of two daughters Alexis and Sydney Kirton.
---
Mary Pat Matheson – CEO, Atlanta Botanical Garden
Mary Pat Matheson is the president and CEO of the Atlanta Botanical Garden and directs all operations for the 30-acre urban garden in Midtown, the heart of Atlanta. The Garden showcases floral displays, plant collections, a children's garden, annual fine art exhibitions, the Fuqua Conservatory and Orchid Center, and the Canopy Walk, the largest suspension bridge of its kind in the United States. Under her leadership since joining the Garden in 2002, the nonprofit organization has actively expanded fund-raising, education, marketing, business administration, horticulture, and conservation efforts with a rapidly growing membership base of more than 40,000. Additionally, she is responsible for the development of the Atlanta Botanical Garden, Gainesville, a 185-acre public garden in Gainesville, Georgia. She also was the driving force behind a $55 million capital campaign completed in 2012 that enabled the Garden to expand, doubling its size to 30 acres with a new Visitor Center, SAGE Parking Facility, Canopy Walk, and Edible Garden. Currently, she is heading a $50 million capital campaign, launched in 2014, that has supported the development of new gardens, expanded facilities, a new restaurant and a renovated children's garden.
In November 2008, the Garden was honored with the Managing for Excellence Award by the Community Foundation for Greater Atlanta and in March 2009 was selected WSB Green Champion. Matheson was named one of 14 Women of Excellence by Business to Business magazine in July 2007 and one of 25 Power Women to Watch by Atlanta Woman magazine in January 2006. In 2005 she was named 2005 Professional of the Year by the American Horticultural Society and the Lexus Leader of the Arts by Public Broadcasting Atlanta. Also in 2005, Matheson accepted on behalf of the Garden a $4 million gift from Turner Broadcasting System, the largest corporate gift in the Garden's history. Because of her proven leadership and administrative skills, she was asked to participate in two international advisory committees, chairing the Limbe Botanic Garden Conservation Coalition in Cameroon, and acting as delegate for the U.S China Arts Exchange southern Gaoligongshan Sustainability Initiative in China.
Matheson's visionary outlook is leading the Atlanta Botanical Garden in new directions and delivering big numbers, particularly with outdoor exhibitions of fine art. In 2017, the Garden presented The Curious Garden, an exhibition of installations by guest artist Adam Schwerner designed to encourage guests to stop, experience and talk about nature, all in intriguing ways. The year before the Garden launched Chihuly in the Garden, an encore of an exhibition by the acclaimed glass artist Dale Chihuly presented 12 years earlier in the Garden. Bruce Munro: Light in the Garden, presented in 2015, cast a magical spell on the garden with the British artist's mammoth displays of light, fiber optics and recyclable materials. In 2013-14, the Garden presented the blockbuster show Imaginary Worlds, an international exhibition of mosaiculture never before shown in the United States. In its second year, the show helped the Garden welcome a record-breaking half-million visitors. In 2012, the Garden brought an exhibition of contemporary sculptures by nine internationally acclaimed artists to Atlanta with Independent Visions: Sculpture in the Garden. Moore in America, Henry Moore's enormous bronze sculptures, was on exhibit in summer 2009; Sculpture in Motion: Art Choreographed by Nature, a collection of kinetic art, opened in summer 2008. In 2007, David Rogers' Big Bugs & Killer Plants showcased the interaction of nature with the Garden's carnivorous plants and Conservation program.  In 2006 Niki in the Garden opened, raising the cultural arts bar in Atlanta once again. This was the largest outdoor exhibition of colorful mosaic sculptures created by Niki de Saint Phalle displayed throughout the Garden. In 2004 Matheson secured Chihuly in the Garden, a blockbuster exhibition integrating Chihuly's beautiful glass sculpture within the Garden's unique plant collections, putting the Atlanta Botanical Garden on the map. The unique exhibition attracted record numbers of visitors from around the country, and, according to the Atlanta Convention and Visitors Bureau, yielded $50 million to $60 million for the city during its nine-month run. Garden attendance more than doubled to 425,000; garden gift shop sales increased by 400 percent; and garden membership reached a then all-time high with 19,000 member households. Under Matheson, the Garden started its annual, sell-out, summer outdoor Concerts in the Garden, wintertime Orchid Daze and fall Scarecrows in the Garden. Its most recent blockbuster addition is Garden Lights, Holiday Nights, which debuted in 2011; the 2017 show drew more than 180,000 visitors over seven weeks.
The meteoric growth in attendance over 16 years in turn has enabled the Garden to reach larger and broader audiences for its mission in educating the public about its plant and animal conservation efforts. Those efforts have included research and conservation of rare and endangered species, including the Cigar Orchid, Monkey Face Orchid and plants of New Caledonia. The primary focus has been the monitoring, restoration and conservation of unique, species-rich communities of native plants of the Southeastern United States. A secondary emphasis has been the conservation of threatened or endangered species of amphibians, including frogs and salamanders.
In 2016, the Garden introduced its Center for Southeastern Conservation, a venue for coordination and collaboration with partner institutions throughout the region to better carry out their work in one of North America's most biodiverse regions. In conjunction with that effort, the Garden hosted the first regional Southeastern Partners in Plant Conservation meeting and launched the Center's Orchid Conservation Institute, a venue for training both professionals and students.
Prior to joining the Atlanta Botanical Garden in July 2002, Matheson was Executive Director of the Red Butte Garden and Arboretum in Salt Lake City. At Red Butte, Matheson helped to establish a cultural sales tax in Salt Lake County to support botanical institutions in the county and initiated a partnership with the U.S. Forest Service to open adjacent National Forest lands for environmental education programs.
While there, she raised more than $15 million for the design and construction of eight display gardens, a children's garden, four miles of nature trails, an orangerie and a visitor center. During her tenure as Red Butte's director, she increased annual revenue by more than 600 percent.
Originally a horticulturist, Matheson earned a B.S. in Resource Management & Park Planning and an Executive Masters degree in Public Administration from the University of Utah. Matheson is a past president of the American Public Gardens Association (formerly the American Association of Botanical Gardens and Arboreta) and has served on its international steering committee focused on the development of a U.S. National Strategy for plant conservation in botanical gardens and has been a member of the board of the American Horticultural Society.
Locally, she has served on the board of directors for the Midtown Alliance, the Atlanta Convention and Visitors Bureau Cultural Tourism Committee, and the International Woman's Forum. She is a graduate of Leadership Atlanta and is a member of the Rotary Club of Atlanta. She also served on the Metropolitan Atlanta Arts and Culture Coalition. She and her husband, Bri, divide their time between Atlanta and Athens, Georgia, where she enjoys horseback riding.
---
Beatriz Perez – SVP & Chief Public Affairs, Communications & Sustainability Officer
Beatriz Perez, SVP & Chief Public Affairs, Communications and Sustainability Officer, The Coca-Cola Company
Beatriz "Bea" Perez is the SVP and Chief Public Affairs, Communications and Sustainability Officer for The Coca-Cola Company.
Bea leads a newly integrated team across public affairs and communications, sustainability and partnerships to support the Company's new growth model and path to become a total beverage company. In this role, Bea aligns a diverse portfolio of work against
critical business objectives to support brands, communities, consumers and partners worldwide. She continues to oversee the Company's sports and entertainment assets including iconic partnerships with Olympics, Special Olympics and FIFA. Bea will continue to lead strategic and operational efforts for the Company's Retail, Licensing and Attractions portfolio of assets.
Since 2011, Bea served as the Company's first Chief Sustainability Officer, where she developed and led progress against comprehensive global sustainability commitments with a focus on water stewardship and women's economic empowerment. She advanced a global sustainability strategy designed to help grow the business while making a lasting positive difference for consumers, communities and the environment.
Pior to leading the Company's sustainability efforts, Bea served as Chief Marketing Officer (CMO) for Coca-Cola North America, where she built brands by developing some of the Company's most historic relationships including American Idol and NASCAR. She began her career at the Company in 1996 and held various roles in brand management and field operations before becoming CMO.
Among Bea's recognitions are membership in the American Advertising Hall of Achievement and the Sports Business Journal's Hall of Fame. The Association of Latino Professionals for America (ALPFA) named Bea to its 2017 50 Most Powerful Latinas ranking. She has been recognized as a "Conservation Trailblazer" by The Trust for the Public Land. She was on Hispanic Executive magazine's list of Top 10 Leaders, and she was featured as one of the "25 Most Powerful Latinas" on CNN and in People en Español.
Bea is a strong advocate for community service, serving on various boards including The Coca- Cola Foundation, the Company's global philanthropic arm. She also serves on the corporate board for Primerica and Grainger. She holds a Bachelor's of Science degree in Marketing from the University of Maryland.
---
Wendy Stewart – Atlanta Market President, Bank of America
As the Atlanta Market President, Wendy is responsible for advancing Bank of America's strategy across Metro Atlanta by delivering the firm's resources and expertise to customers and clients.  Wendy connects with local business leaders and community stakeholders to deliver the company to customers and clients.  Wendy is also responsible for ensuring Bank of America's Environmental, Social, and Governance strategy, including philanthropy and community development efforts have a positive impact on metro Atlanta.
As co-head of Bank of America Merrill Lynch's Global Commercial Banking practice for the Southeast region, Wendy leads the firm's efforts, working with mid cap and middle market companies. This includes public and private companies with annual revenues of $50 million to over $2 billion in a variety of industries. Wendy partners closely with teammates across the firm to provide the expertise and consultation necessary to deliver the best solution for the client.  Wendy holds Series 7, 63, and 24 securities licenses.
Wendy joined Bank of America's predecessor, NationsBank in 1996.  She left Bank of America in 2000 to join the executive team of the YWCA of Greater Atlanta as Chief Operating Officer. Wendy was responsible for streamlining the functions of the organization, solidifying its financial position, and positioning the organization for growth. Wendy returned to Bank of America in 2007 where she has held various leadership roles since that time.
Wendy earned her Bachelor of Science degree in Accounting and Bachelor of Arts degree in History from Presbyterian College.  Today, Wendy serves on the Board of Directors and Executive Committee for the Metro Atlanta Chamber, the Board of Directors for The Grove Park Foundation, the Board of Trustees for Woodruff Arts Center, a director of the Buckhead Coalition, and a member of Atlanta Committee for Progress.  Wendy is a graduate of Leadership Atlanta- Class of 2017 and Leadership Georgia- Class of 2010.