Each year at Salute to Women of Achievement, YWCA of Greater Atlanta celebrates dynamic women leaders throughout Georgia whose professional and civic lives embody our mission to eliminate racism and empower women.
Read below to learn more about this year's honorees.
2017 Women of Achievement
---
Ann Stallard
Ann Stallard is a successful CEO, entrepreneur and committed community activist. Her success as a business person resulted in an extensive regional reputation for client service and selection by her peers for several prestigious awards.
Her commitment to community has led to increasingly important volunteer leadership roles on regional, national and international platforms.
Over a 35-year career, she helped lead Graphic Communications Corporation from a trusted printing company to a multimillion-dollar provider of communication solutions; all within an industry that itself was going through upheaval and radical change. During that time, Ann consistently focused on utilizing the best technology possible in commercial printing, imaging and fulfillment. She was recognized by the Printing & Imaging Association of Georgia (PIAG) for her visionary innovation and advancement, especially among women and young people in the industry. Ann has also received numerous awards – in 2010 the Atlanta Business Chronicle named Ann as one of the 100 most influential people in metro Atlanta, and in 2005 Ann was the first woman CEO to receive the Turknett Ethical Leadership Award.
A graduate of Leadership Atlanta, Ann has served on many boards and has been appointed to several state commissions. Between 1991-1996 Ann served as president of the YWCA USA, and from 1996-2002 she served on the global board of the World YWCA in Geneva, Switzerland, representing 121 counties and 25 million women and girls. Ann co-founded the Women's Leadership Council of United Way with Dr. Johnnetta B. Cole and Anne Kaiser in 2000. This council is now a national force of more than 56,000 volunteers who raise $180 million annually. From 2009 – 2001, Ann was the Chairman of the Board of Trustees, United Way of America—the country's largest nonprofit with 1300 affiliates and a budget of $3.4 billion. During her tenure, United Way of America transformed into United Way Worldwide.
In 2012 Graphic Communications Corporation was sold, and Ann entered a new phase by becoming a senior advisor for the Oxford Center for Entrepreneurs.
Ann often describes herself as a serial social entrepreneur who attempts to combine best business practices to improve a community's quality of life in fundamental ways. Ann believes that a symbiotic partnership between businesses, government and nonprofits holds the key to solving some of our most critical issues
---
Ann Curry
Ann Curry led Coxe Curry & Associates for more than two decades before turning its leadership over to David Eidson in 2015. She came to Coxe Curry, in 1992, after twenty years of community service and purchased the firm from prior owner, Frankie Coxe, in 1993. Her current role allows her to be a senior advisor to clients and a resource for the firm's staff.
Ann's previous community service includes serving as president of the Atlanta-Fulton League of Women Voters, as Georgia president, and as a member of the League's national board, where she was development chair. She was a five-year member of the Board of Research Atlanta and its first woman president. She chaired the board of the Atlanta-Fulton Public Library for three years and was the founding president of the Atlanta-Fulton Public Library Foundation.
Ann is a graduate of Leadership Atlanta and Leadership Georgia. She is a member of the YWCA Academy of Women Achievers and was recognized in 2007 as A Woman of Excellence by Atlanta Woman magazine. A recipient of the Eudora Rogers Award as the outstanding League of Women Voters member, Ann also received the Eleanor Raoul Greene Award from the Georgia League.
Campaigns Ann leads or has led for the firm include the $325 million Greater Grady campaign for the Grady Health Foundation, Spelman College's $150 million campaign, The Trust for Public Land's $150 million Chattahoochee land protection effort and the Piedmont Park Conservancy's $41.2 million expansion of the Park. She currently consults with the Atlanta BeltLine Partnership, the Atlanta Botanical Garden ($50M goal), Berry College ($100M goal) and the Westside Future Fund.
She and her husband Jim have two adult children and three grandchildren. Ann and Jim enjoy city-living, adventure travel, and Duke basketball, having been present for every national championship.
---
Ann Cramer
Ann Wilson Cramer, a native of Jacksonville, Florida, graduated from Salem College in Winston-Salem, North Carolina with a degree in mathematics. She is serving as a Senior Consultant with Coxe Curry & Associates after retiring from a long and successful career at the IBM Corporation, where she started as a Systems Engineer in Jacksonville and retired as its Director for IBM Corporate Citizenship and Corporate Affairs for the Americas. Ann and her husband, Jeff, live in Inman Park and are active at St. Luke's Episcopal Church, where Ann has served as Senior Warden of the Vestry. They are the proud parents of two adult children, Megan and Wil and his wife, Lauren.
Ann's commitment to and involvement with children and youth has been a lifelong journey. Even though she is retired from her job at IBM, she continues her work with the improvement of conditions for families and children.
In support of children, youth and education, Ann most recently chaired the Workforce Development Task Force for the Governor's Commission for a New Georgia. Ann has chaired the Governor's Child Protective Services Task Force, served as Chairman of the Governor's Commission on Children and Youth and co-chaired the Governor's Welfare Reform Task Force, the Governor's Policy Council for Children and Families and the Grady Foundation, the Governor's Action Council for Safe Kids and led a team developing Voices for Georgia's Children.
Ann is past chair of the United Way of Metro-Atlanta, Leadership Atlanta, Research Atlanta, the Arts and Business Council; the WorldClass Schools Foundation; past president of the Junior League of Atlanta, Inc. and was selected by the YCA for its first Outstanding Women of Achievement Recognition in 1984. She has participated in Leadership Atlanta, Leadership Georgia and the Regional Leadership Institute, is a member of Outstanding Atlanta, and chaired Leadership Atlanta's 25th Anniversary Celebration. Also, she chaired the Volunteer Task Force for the Atlanta Committee for the Olympic Games (ACOG), was appointed the public member and has served as the Chairman of the Board of Registration for Professional Engineers and Land Surveyors.
---
2017 Academy of Women Achievers
Mary Schmidt Campbell, Ph.D., President, Spelman College
A leader in education, the arts, and the public sector for nearly 40 years, Mary Schmidt Campbell, Ph.D., began her tenure as the 10th president of Spelman College Aug. 1, 2015.
Prior to being appointed president, Dr. Campbell was dean emerita of Tisch School of the Arts at New York University and university professor in the Department of Art and Public Policy. In her over two decades as Dean, Tisch vaulted to the top echelon of university art schools. While at Tisch, she invented new fields of study, fostered collaboration between art and technology, and increased the diversity of both the faculty and the student body.
Early in her career, Dr. Campbell led the Studio Museum in Harlem at a time when Harlem was in decline and the city of New York was on the verge of bankruptcy. Under her leadership, the museum was transformed from a rented loft into the country's first accredited Black fine arts museum with a permanent collection, major publications, exhibitions and artists-in-residence programs.
Prior to joining Tisch in 1991, Dr. Campbell served as New York City's cultural affairs commissioner under two mayors and was responsible for the city's cultural policy, as well as the capital and operational development of major cultural institutions. In 2009, Dr. Campbell was appointed by President Barack Obama to be the vice-chair of the President's Committee on the Arts and the Humanities, a non-partisan advisory committee to the President of the United States on cultural matters. Throughout her tenure as vice chair, Dr. Campbell took an active role in re-affirming the arts as one of the ingredients essential to effective public school education.
A well-known speaker, Dr. Campbell lectures widely across the country and around the world and has authored many papers and articles on a range of subjects including African-American art, urban cultural policy issues, leadership and arts in education.
Dr. Campbell is married to Dr. George Campbell Jr., a physicist and president emeritus of The Cooper Union for the Advancement of Science and Art; they are the parents of three sons and have six grandchildren.
---
Edie Cofrin- Philanthropist
Edie Cofrin started her philanthropy in her early 20's and has been a passionate supporter of organizations that have profoundly impacted many social justice issues. Her first major donation was the seed money for Charis Books and More, when it was a non-profit bookstore. In 1986, Edie began her journey with The Human Rights Campaign. Since then, she has served in many capacities, including as HRC Atlanta Dinner Co-Chair, on the Board of Governors, as a Capital Campaign Co-Chair that helped raise funds for the National Headquarters and as HRC Foundation Co-Chair. She currently serves on the HRC Foundation Board.
Edie served on the Atlanta Women's Foundation Board for 12 years, including two years as Board Chair. She has also served on the Aid Atlanta and The National Center for Civil and Human Rights Boards.
In addition to her service with these organizations, she has also supported the community through major donations to Charis Circle, Atlanta Health Initiative, Georgia Equality, Vote Choice, The Link Counseling Center, and Emily's List.
Edie currently manages the AEC Trust, a family foundation and continues to stay connected to issues that affect our communities.
---
Lisa Gordon- Chief Executive Officer, Habitat for Humanity International
Lisa Y. Gordon, CPA, is President and Chief Executive Officer of Atlanta Habitat for Humanity—one of the top 10 Habitat for Humanity International affiliates in the United States. She is a recognized leader in transformational redevelopment efforts for quality affordable housing and neighborhood revitalization.
Lisa joined Atlanta Habitat in July 2015 and set the nonprofit homebuilder on a new course to become a catalyst for holistic neighborhood revitalization. She developed and now guides the organization's new five-year strategic plan and new vision and mission—making an annual $6 million economic impact on the city of Atlanta through new home constructions, renovations and critical repair projects.
As a leader in urban redevelopment and government service before joining Atlanta Habitat, Lisa was Vice President and Chief Operating Officer for the Atlanta BeltLine, Inc., cabinet member of former Atlanta Mayor Shirley Franklin's administration, City Manager of East Point, GA and Assistant City Manager of Austin, Texas prior to working in county government for 10 years.
She earned an undergraduate degree from Georgetown University and holds a Master's of Public Administration degree from the Maxwell School at Syracuse University and a Master's of Accounting degree from Nova Southeast University. She has been a licensed Certified Public Accountant in the state of Florida since 1999.
In 2016 Lisa was inducted as a Fellow of the National Academy of Public Administration. She is also an Advisory Board member of the Urban Land Institute, a member of the U.S. Council Advocacy Committee for Habitat for Humanity International, International Women's Forum, Women's Affordable Housing Network, Leadership Atlanta, Commercial Real Estate Women (CREW) and treasurer of the for Serenbe Institute board of directors. She is the recipient of several honors and awards including the WTS International's Woman of the Year in Transportation, Bisnow magazine's Top 40 most influential women in commercial real estate in 2014, and CREW (Commercial Real Estate Women) Network's 2013 Economic Impact Award.
---
Valerie Camille Jones, STEM Teacher, Ron Clark Academy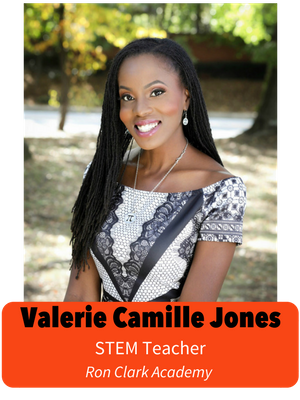 For over 16 years, Dr. Camille Jones has served her country and the people of metropolitan Atlanta. She earned her bachelor's degree in Mathematics at Spelman College and continued her studies by earning masters and doctoral degrees in Mathematics Education from Georgia State University and Columbia University respectively. Dr. Jones is national board certified and a certified industry studio teacher.
Throughout her life, Dr. Jones has made community service a priority. She has worked with STEM organizations to provide opportunities for young girls to show interest in the sciences. She has also provided summer math enrichment camps to foster the love of mathematics in youth. Each year Dr. Jones sponsors students in the MATHCOUNTS video challenge national competition and her teams have won 1st place three years in a row.
In the past, Dr. Jones served the community through her work with Alpha Kappa Alpha Sorority Inc., Jack and Jill of America Inc, AKAdettes, and Top Teens of America. Dr. Jones is greatly respected for her creative approach in making the most difficult subjects accessible and tangible to her students. Dr. Jones teaches her students how to effectively use mathematical models as communication tools. In the classroom, she develops art and video game simulations to connect students to math and coordinates field trips to provide real-life examples of the influence of math. Dr. Jones is a champion of promoting math esteem in general.
Dr. Valerie Camille Jones was recently honored with the Presidential Award for Excellence in Mathematics and Science Teaching, which is America's highest honor in math and science for teachers. In the fall of 2015, Dr. Jones was also recognized by Congressman John Lewis at the 114th Congress 1st Session. Georgia Trend Magazine named her to their Top 40 Under 40 List for her contributions to education, and Mental Floss magazine highlighted her for her commitment to her
students.
---
Stephanie Mains, CEO, Industrial Solutions GE Ener
gy Connections
Stephanie Mains is chief executive officer of GE Energy Connections' Industrial Solutions business and a corporate officer of GE. Industrial Solutions, a GE heritage business, is a leading provider of advanced technologies that distribute, protect, and control electricity for a variety of industrial, commercial and residential applications around the world. As CEO, Stephanie leads the $2.7B organization with a global team of nearly 14,000 employees.
Stephanie's 28-year career spans multiple GE businesses and industries with leadership roles in finance, operations and business management. She joined GE in 1989 as part of the company's Financial Management Program and held roles of progressive responsibility at GE Transportation and GE Capital over the next ten years. In 1999, Stephanie joined GE Aviation where she served in two Chief Financial Officer (CFO) roles and as process & integration leader for Engine Services.
Given Stephanie's extensive experience as a female executive in STEM-dominated industries, she remains very passionate about diversity, women's empowerment, and supporting programs that improve the lives of children and families. Over the past years, Stephanie has served as a member of GE's Community Service Board, the GE Women's Network Cabinet, and the Junior Achievement of Georgia board. She has also served as an executive sponsor for Hands on Atlanta, March of Dimes, and GE Energy's United Way campaign. Currently, Stephanie is an active board member of the National Electrical Manufacturer's Association (NEMA), Girls Inc. of Greater Atlanta, and Boy Scouts of America while she continues to lead and grow the GE Girls STEM partnership with Georgia Institute of Technology.
In 2016, Stephanie was recognized for her commitment to diversity in her industry by the Technology Association of Georgia. She was also inducted into the International Women's Forum and honored as a 2016-2017 MAKERS awardee for her ground-breaking leadership and dedication to women's empowerment.
Stephanie holds a bachelor's degree in finance from the University of Kentucky. She and her husband, Charles, have two children – Ben and Grace – and live in Atlanta, Georgia.
---
Ileana Martinez, Thompson Hine
Ileana is a partner in the firm's Business Litigation, Product Liability Litigation and Life Sciences practice groups. She is a senior member of the Drug and Medical Device Litigation Group, the Atlanta office chair of the Women's Initiative and the Atlanta office Chair of the Diversity and Inclusion Initiative. Ileana was recently featured in Profiles in Diversity Journal
Ileana focuses her practice on product liability litigation, including litigation for pharmaceutical and medical device companies and many other consumer and commercial product manufacturers. She also handles cases involving business and commercial litigation, insurance defense, professional malpractice, and premises liability. She has served as national, regional and local counsel for product manufacturers and distributors involved in multi-district litigation and has extensive experience with mass torts, class actions and complex litigation.
Ileana routinely handles cases which involve intricate and cutting-edge medical, scientific and engineering issues, are document-intensive, often high-profile, and allege serious permanent injuries or death.
---
Teresa Roseborough, EVP General Counsel, The Home Depot
Teresa Wynn Roseborough is responsible for all of The Home Depot's legal functions worldwide, including securities, litigation, employment, mergers and acquisitions, real estate, store operations, risk management and intellectual property. As corporate secretary, Teresa serves as a liaison between the board of directors and the company and is responsible for all corporate governance matters. She also is responsible for the company's government relations.
Before joining The Home Depot in 2011, Teresa held several positions in the legal department of MetLife, including deputy general counsel and senior chief counsel for litigation and compliance. Prior to MetLife, Teresa was a partner at Sutherland Asbill & Brennan LLP, where her practice focused on complex litigation matters at both the trial and appellate level, including before the U.S. Supreme Court.
Teresa's more than 25 years of legal experience also includes government service as deputy assistant attorney general for the U.S. Department of Justice, where she provided legal counsel to the White House and all executive branch agencies; law clerk for Justice John Paul Stevens of the U.S. Supreme Court and Judge James Dickson Phillips of the U.S. Court of Appeals for the Fourth Circuit; an employee of the Department of Defense in West Germany.
Teresa was named one of 25 Influential Black Women in Business by The Network Journal and as one of America's top black attorneys by Black Enterprise. Her civic involvements include serving as a public member of the Administrative Conference of the U.S., a fellow of the American Academy of Appellate Lawyers, a member of the boards of directors of the Lawyers' Committee for Civil Rights and of the Board of Overseers of the RAND Corporation Institute for Civil Justice.
Teresa earned a bachelor of arts degree from the University of Virginia, a master's degree in education from Boston University, and a Juris Doctor with high honors from the University of North Carolina School of Law, where she was editor-in-chief of the Law Review.
---
Joanne Smith, Executive Vice President, Delta Air Lines
Joanne Smith is Executive Vice President and Chief Human Resources Officer for Delta Air Lines. She is responsible for preserving the airline's unique culture of positive engagement with its more than 80,000 employees, overseeing talent management and development, HR service delivery, diversity and inclusion, HR policies and programs.
Under Joanne's leadership, Delta was named one of the 2017 Fortune 100 Best Companies to Work For ranking No. 63 and the only airline on the list. The list is based on employee ratings of their workplace culture, including the pride they take in their jobs, the camaraderie they experience with co-workers, and level of trust they feel toward leaders.
She previously served as Senior Vice President – In-Flight Service where she led a team of more than 20,000 flight attendants, supervisory and support personnel. In addition, she also oversaw the airline's onboard product development and catering operations, which includes 154 kitchens across the globe supporting 3,100 flights per day.
Joanne joined Delta in 2002 as Vice President – Marketing and Customer Service for Song, the airline's former low-cost carrier. Prior to her current role, she also served as Delta's Vice President – Marketing, where she managed the airline's brand, worldwide marketing communications, marketing sponsorships, community affairs, customer research, and product and service development.
Throughout her 30-year career in the travel industry, Joanne has received numerous awards and recognition including 25 Power Women to Watch in Atlanta, Advertising Age Top 10 Women to Watch, Wall Street Journal's Top Women to Watch, Honored Alumni of the Orfalea College of Business and AWNY Changing the Game Award. She also serves on the Board of Directors for the Atlanta Habitat for Humanity, the Delta Air Lines Foundation, University of Minnesota Foundation National Diversity Advisory Board and is an Advisory Board Member of the Breast Cancer Research Foundation.
Joanne holds a bachelor's degree in Business Administration from California Polytechnic State University.
---
Yvonne Thomas, Hank & Yvonne Thomas Foundation
Yvonne Johnson Thomas and her husband Hank (now retired) previously own and operated nine McDonald's Restaurants and four Marriott branded limited services hotel properties, Fairfield Residence Inns. They have been partners in business since 1980 in Atlanta; Yvonne and her husband Hank were McDonald's franchisee for over thirty years.
She has served on national, divisional and regional boards of several McDonald's leadership organizations including the Women's Owners Network (W.O.N.), National Black McDonald's Owners Association (NBMOA), Division Leadership Council (DLC), and Atlanta Black McDonald's Owners Association (ABMOA) and its civic organization: Wheels of Dream Foundation (which is centered on giving teens with limited resources a chance to pursue their dreams of business ownership). She has received many outstanding operations and business-related awards. In 2011 Yvonne received W.O.N.'s highest honor, the Dorothy O'Brien Award, for her advocacy and commitment to helping women in business achieve economic security through business ownership. Yvonne Johnson Thomas was the first African-American to graduate from the University of South Carolina with a four-year degree in business.
The Thomas' are active in their communities and attend Midway Missionary Baptist Church in College Park, GA. The couple has established scholarships at the Piney Woods Boarding School (Jackson, MS), Howard University (Washington, DC) and Morehouse School of Medicine (Atlanta, GA) and Atlanta Metropolitan College.
---
Mary Wilson, MD, President and Executive Medical Director, T
he Kaiser Permanente Medical Group 
Mary L. Wilson, MD, serves as the Medical Group Leader for The Southeast Permanente Medical Group (TSPMG). TSPMG is one of Georgia's largest multi-specialty medical groups with over 600 clinicians caring for nearly 280,000 Kaiser Permanente members in the state. Services are delivered through a network of 26 medical offices and specialty centers, as well as four contracted hospitals—Piedmont Hospital, Northside Hospital, Gwinnett Medical Center and Children's Healthcare of Atlanta.
Dr. Wilson, a Pediatrician, received her Bachelor's degree from Colorado College and her Medical Degree from the University of Washington in Seattle. She completed her internship and residency in Pediatrics at the University of California—San Diego and a Fellowship in Ambulatory Pediatrics at the University of California—Los Angeles (UCLA). She also holds a Masters of Public Health from UCLA. Dr. Wilson is Board certified by the American Board of Pediatrics and is a member of the American Academy of Pediatrics.
Prior to her role in Georgia Dr. Wilson served as Area Medical Director for the Kaiser Permanente Panorama City medical center in the east San Fernando Valley area of Los Angeles. In that position, she led 400 Physicians and 3,000 employees in the care of 215,000 members at the 230-bed hospital, as well as four other medical offices and a mental health center. She has held several other leadership roles, including Assistant Medical Director for Patient Care Experience, where she designed and implemented a strategy to help more than 5,000 physicians improve the care experience for over 3.5 million patients.
Dr. Wilson is active in the community, having served with non-profits that work with victims of domestic violence and on overseas medical mission trips. She promotes an active lifestyle and sets an example for her patients through travel, running and competing in triathlons