2019 Summer Camp 
Register today for the YWCA of Greater Atlanta's 2019 Summer Camp
The YWCA of Greater Atlanta, Summer Camp is an eight-week summer program that provides hands-on activities and experiences that stimulate the campers cognitive, social, emotional and physical development for children ages 5 to 12 years old.
Our campers engage in creative and educational enrichment activities, participate in a variety of arts & crafts projects, and enjoy field trips throughout Atlanta.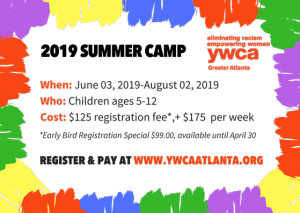 Our campers start exploring at 7:00 am to 6:30 pm. We provide three nutritious meals: breakfast, lunch, and snack.
To register your child:
To pay registration, weekly fee, and/or Summer Camp Activities online:
Check the registration fee box.
If also paying the Weekly Fee, check which week(s) you would like to pay for.
To pay for Summer Camp Field Trip Activities check which field trip(s).
Click Register to complete your purchase.
---
For an optimal web experience, please use a Chrome or Safari web browser.