---

Board Chair
Bari R. Love is president of InReach Partners. InReach works with companies and individuals to develop leadership blueprints that convert vision and purpose into actionable activities for civic, non-profit, community and political engagement.
She most recently served as SVP, Communications & Marketing for the Metro Atlanta Chamber (MAC). Prior to that, she spent 25 years leading marketing, PR and advertising agencies.[/one-half]
Bari serves on numerous boards and most recently co-chaired the "Power to Inspire" Tribute Dinner for the Center for Civil and Human Rights. In 2015, she was inducted into the YWCA Academy of Women Achievers and received the George Goodwin Award for life-long commitment to our community. She is a graduate of the University of Alabama and the 2006 Class of Leadership Atlanta.
---
Vice Chair 
Sarah Lattimer Irvin is President and CEO of Metrics Marketing, a full-service, multicultural, advertising and public relations agency with a focus on the African-American, particularly female, segments.
Throughout her illustrious 25-year career as a marketing, advertising and sales professional, Sarah has spearheaded highly successful, integrated, multicultural marketing campaigns.
Before starting Metrics Marketing, Sarah served as Vice President for several Atlanta and New York advertising firms, establishing a presence for clients interested in the competitive advantages offered by multicultural audiences.
Under her guidance, Metrics Marketing completed a national, groundbreaking study, "A Profile of Today's Black Woman" that received national media attention because it was the first study of its kind to identify six unique personas of African-American women. Sarah is also published in Pepper Miller's latest book, "Black Still Matters in Marketing," having written a chapter, "Under the Radar: Black Women."
Sarah is a member of the MAGNET marketing and advertising global network, the American Association of Advertising Agencies' Atlanta Board of Governors, the Metro Atlanta Chamber of Commerce and the Atlanta Business League. She serves on the Board of Visitors of the Centers for Disease Control (CDC) and the YWCA of Greater Atlanta. Sarah was named one of the 100 Most Influential African-American Women in Atlanta by the Atlanta Business League in both 2008 and 2009. She was a finalist in the Atlanta Business League's Outstanding Achievement Woman of the Year in 2011. Rolling Out Magazine most recently named her one of the Top 25 Most Influential Women of Atlanta.
---
Treasurer 
Sarah J. Beard is a Director in KPMG's Forensic practice in Atlanta. She focuses on providing regulatory compliance and investigative services to healthcare providers and payers throughout the United States. She serves as the Atlanta co-chair for KPMG's Network of Women (KNOW).
In addition to serving on the Board of Directors of the YWCA of Greater Atlanta, Sarah serves as the Vice Chair on the Board of Directors of Voices for Georgia's Children.
She is the Chair of the American Cancer Society's Relay for Life – Vining/Buckhead. Sarah earned her undergraduate degree from Furman University and her masters from the University of Georgia. Sarah is a Certified Public Accountant (CPA) licensed in Georgia and a Certified Fraud Examiner (CFE).
---
Secretary 
Pauline Warrior Nunnally is the Corporate Etiquette and International Protocol Officer and the Site Lead for Customer Relations at Lockheed Martin. In this role, she is responsible for protocol and diplomacy training, business etiquette processes, visit management and customer engagement for domestic and global affairs.
Her professional career spans over eighteen years building demonstrable experience in external affairs, economic development, and operations management.
She has successfully developed numerous professionals and lent her talents to the creation of corporate social responsibility initiatives and award-winning programs in the private and public sectors. She has won numerous awards and gained national prominence for her leadership of the Governor's Mentor Protégé Program, touting the exchange of more than $16B in contracts through facilitating business-to-business relationships in the state of Georgia.
A native Atlantan, Mrs. Warrior Nunnally is a Political Science graduate of Georgia State University and is certified and licensed to provide international protocol, cross-cultural awareness, business etiquette and image training through The Protocol School of Washington.
---
Immediate Past Board Chair
Erica Qualls-Battey serves as General Manager for the Atlanta Marriott Marquis, Marriott International's fourth largest hotel – a $100 million- a- year hotel operation. She is responsible for ensuring guest and associate satisfaction, managing the hotel's finances and assets, owner relations and fostering business alliances that promote Marriott International. The Atlanta Marriott Marquis is Georgia's largest hotel with 1,663 guestrooms and suites, and over 160,000 square feet of meeting and convention space.[/one-half]
In April 1993, Qualls-Battey started her career with Marriott International. She has held key positions in various disciplines. Prior to her current appointment, Qualls-Battey was Hotel Manager and Director of Human Resources at the Marriott Marquis, and General Manager of the Residence Inn by Marriott in Sunnyvale, California.
An active member in her community, Qualls-Battey is involved in national and local community organizations including Children's Miracle Network, United Negro College Fund, United Way, the Azalea City Chapter of the Links, Incorporated and the International Women's Forum of Georgia. She serves on the Board of Trustees for Chick-Fil-A Bowl. Executive Board of Directors YWCA, Metro Atlanta Chamber of Commerce, Atlanta Hotel Council, Atlanta Business League and Atlanta Convention & Visitors Bureau. She is a member of the boards of Central Atlanta Progress, Atlanta Technical College, and Atlanta Area Council Boys Scout of America. Through Qualls-Battey's leadership, the Atlanta Marriott Marquis was awarded the A+ Award Summa Cum Laude for Partnership with Atlanta Public Schools.
Qualls-Battey has received numerous awards including the Atlanta Business League's prestigious Leadership Award for outstanding volunteerism and listed her as one of Atlanta's Top 100 Black Women of Influence. Qualls-Battey won the Bridge Builder Award by the Atlanta Technical College and the Apex Award by the Travel Professionals of Color National Association. She was named Business to Business Magazine's Women of Excellence Honoree. Honored as YWCA Woman of Achievement and joined Leadership Atlanta Alumni Class of 2010. She has distinguished herself among the very best in hospitality, named Host Hotels and Resort General Manager of the Year, Marriott International General Manager of the Year, and General Manager of the Year by the Georgia Hotel Lodging Association and Most Admired CEO presented by the Atlanta Business Chronicle. She is married and a proud mother.
---
Board Member
In a career spanning over 30 years, Renay Blumenthal has forged a reputation as one of Atlanta's most respected community leaders — with deep ties to Atlanta's civic, foundation, business and political sectors.
As president of the Grady Health Foundation, she leads and manages all aspects of the foundation, including setting the foundation's strategic direction, coordinating all fundraising activities, and providing community outreach to increase support for Grady.
Blumenthal's career spans a rare mix of both public and private sector experience. For nearly 10 years, she served as senior vice president of public policy for the Metro Atlanta Chamber, where she directed initiatives to strengthen the region and city. Blumenthal has been a trusted adviser to Georgia's top elected officials, serving as policy director to former Gov. Roy Barnes, budget and policy director to former Gov. Zell Miller, and budget chief to former Atlanta Mayor Shirley Franklin. She was also instrumental to former Gov. Sonny Perdue's transition team. In the private sector, Blumenthal worked as a program development and lending officer for Trust Company Bank in Savannah, Georgia and as a controller for Aratex Services, Inc.
Throughout her career, Blumenthal has used her positions of authority to help strengthen Grady. The Greater Grady Task Force, led by Pete Correll and run by the Chamber under Blumenthal's guidance, helped galvanize public support for Grady Hospital that led to a $318 million infusion. During her tenure with Gov. Barnes, she was part of a team that secured state and federal funding for Grady and helped form the Georgia Cancer Coalition, which created Grady's Cancer Center for Excellence.
A native Atlantan, Blumenthal is a cum laude graduate of Georgia Tech and holds a Master of Business Administration from Georgia State University. She was a Georgia Trend "40 under 40″ honoree in 2001 and a member of the Leadership Georgia class in 2000 and Leadership Atlanta class in 2006. She has been named one of the 50 most "Influential Non-profit Leaders" by the Atlanta Business Chronicle and a "Notable Georgian" by Georgia Trend. She was also recognized as a Woman of Achievement by the YWCA in 2009 and as one of the Atlanta Business Chronicle's "Women Who Mean Business" in 2015. She also received an Impact Leader award from Business to Business magazine in 2010.
Blumenthal serves on several community boards. She is past chair of Leadership Atlanta and the Clean Air Campaign and currently serves as a member of the American Jewish Committee, YWCA, Central Atlanta Progress and Georgia Chamber boards and the Women's Forum of Georgia. She and her husband, Ned, live in Atlanta and have two young children, Michael and Rachel.
---
Board Member
Stephanie Davis is the former executive director of Georgia Women for a Change, before it merged with the YWCA of Greater Atlanta.
GWC was a non-profit public policy institute with a gender lens that represented Georgians across a spectrum of issues including reproductive health care, economic justice and challenging violence against women and girls, especially human trafficking.
Davis served as the first Policy Advisor on Women's Issues to Mayor Shirley Franklin where she coordinated the "Dear John" campaign to end child prostitution in Atlanta.
As the founding director of the Atlanta Women's Foundation where she served for 11 years, Davis was responsible for establishing an endowment and positioning the Foundation to be the fastest growing women's fund in the country. She currently serves on the boards of the YWCA, Actor's Express , the Advisory Board of the Georgia Asylum and Immigration Network. She is a graduate of Skidmore College and received one of the country's first Masters degrees in women's studies from Goddard College. Stephanie is a Second Wave feminist and is 68.
---
Board Member
Carla Dillard Homer has been with the American Red Cross since June 2013 as the Regional Chief Operating Officer for the Georgia Region.
Her responsibilities include oversight of the region's general operations including expense budget, facilities, fleet management and human resources. She is also responsible for the Georgia Services to the Armed Forces program which supports active duty, veteran, and reserve military personnel.
Carla began her career with Grant Thornton Accounting Firm and Time Warner, Inc., in New York City in a public accounting and auditing capacity. She served her first tenure with the American Red Cross at the Metropolitan New Jersey Chapter as both Chief Financial Officer and Chief Operating Officer. After graduate school, she joined BellSouth as a member of the LEAD program where she led many strategic and operational planning efforts throughout both the Consumer and Internet business units eventually joining AT&T as a Director, overseeing the company's Small Business website. After seven years with BellSouth/AT&T, Carla began her own company lending her expertise to various entities assisting them to launch and expand their businesses. Throughout this time, Carla has maintained her passion for service and mission-based work by volunteering for several non-profits.
Carla is a graduate of Howard University with a degree in Accounting and Early Childhood Education. She also has her MBA, with an emphasis in Strategy and Finance, from the University of Michigan. She maintains numerous certifications including CPA, Project Management and Six Sigma Green Belt.
Carla resides in Atlanta, Georgia, with her husband and two children.
---

Board Member
When Angie Fife co-founded PDSI in 2001 she knew the key to the business' success was a values-driven approach coupled with excellent implementation. As Chief Financial Officer for Project Development Services, Inc. she has co-led the organization from its inception to a firm which has deployed over $4 billion in capital investment. Ms. Fife has responsibility for formulating the company's future direction and supporting its tactical initiatives including the development, direct implementation and monitoring of the company's overall strategic business plan.
With direct financial control of over $250 million in annual development capital, Ms. Fife upholds strong financial management and accountability while providing timely, accurate, and reliable financial reporting and oversight to PDSI and its clients. Ms. Fife drives a variety of strategy and infrastructure initiatives throughout the organization to support the substantial growth to date, and for "future-proofing" its continued success. These strategies have included building and managing effective and streamlined systems, including financial, accounting, legal, information technology, human resources, and physical infrastructure for the firm. As a founding member of the senior management team, Ms. Fife has led the charge as PDSI has evolved into the premier project management and development company that consistently sets standards for its industry.
Prior to joining PDSI she worked in the investment banking and hospitality industries. Ms. Fife is a graduate of the University of Alabama at Birmingham with a degree in Finance and Economics. Throughout her career, Ms. Fife has been actively involved with several civic and nonprofit organizations, especially those supporting women both locally and globally. She currently serves on the Boards of Directors of the YWCA of Greater Atlanta and MedShare International.
---
Board Member
Holly H. Hughes is responsible for Colliers International's property and facility management services in Atlanta. She currently oversees a 102M square foot portfolio including office, retail, industrial, medical office building, mixed-use, and corporate facility assets.
Under Holly's leadership, her team has achieved numerous awards for their superior performance, including four International Building of the Year Awards and fifteen local and regional Building of the Year Awards through BOMA.
Holly's volunteer activities include serving as Member of the Board of Directors for Sheltering Arms Early Education and Family Centers, Make-A-Wish Foundation of Georgia and Alabama, and the YWCA of Greater Atlanta. She is also an Honorary Board Member of Georgia State University, Department of Real Estate.
---
Board Member
Janin Hutcheson serves as a pilot for Southwest Airlines where she enjoys flying the Boeing 737 throughout their network.
Born in Fort Leavenworth, Kansas, to a US army officer and his family, Janin lived in many exciting places including Germany and Alaska before the family settled in San Jose, California. Janin found her career aspiration and began flying lessons while in high school. She continued her flying in college while earning a B.S. in Aeronautical Science from the University of North Dakota in Grand Forks. Janin began her professional career as a pilot with Mesaba Airlines where she flew SAAB 340 aircraft based in Detroit and later in Memphis, Tenn. In 2005, she joined AirTran Airways as a pilot based in Atlanta flying the Boeing 717. In addition to her flying duties at AirTran Airways, Janin helped recruit and interview pilots for the airline.
After nearly ten years of service, Janin had the honor of flying the last AirTran Airways flight from Atlanta to Tampa, Fla., on December 28, 2014. Southwest Airlines acquired AirTran Airways and Janin transitioned to the Boeing 737 after months of training in Dallas in 2015. She loves flying big jets and really enjoys the view from her office.When not flying a 737 for Southwest, Janin enjoys traveling, reading, knitting, cooking and bicycling. Janin is involved in the Atlanta community and serves on the Penn Lyons Scholarship Committee at The Community Foundation for Greater Atlanta. In addition, Janin serves on the boards of Kenny Leon's True Colors Theatre and the YWCA of Greater Atlanta.
Janin and her husband, Tad, a Delta Air Lines employee, make their home in downtown Atlanta.
---
Board Member
As a Senior Relationship Manager on the Commercial Banking team, Tyan is active in attracting, growing, advising, and retaining long term relationships with companies in the Metro Atlanta area, whose revenues range from $5 million to $100 million+.
Prior to joining State Bank & Trust Company in November 2017, Tyan worked for PNC Bank, NA. (and its predecessor RBC Bank) for 10 years.  She began her career at JPMorgan Chase 15 years ago where she received formal credit training as part of the Commercial Banking analyst program in New York City.
State Bank & Trust's Commercial Banking Team offers a comprehensive array of products and services – financing, treasury management, asset based lending, equipment financing and more.
Tyan holds a Bachelor of Arts degree in Economics from Spelman College in Atlanta, Georgia. She maintains active involvement in several community service organizations including Cool Girls, YWCA and Boys and Girls Clubs.
---
Board MemberBoard Member
Lani Mauriello is an Assistant Vice President in the Supervision and Regulation division at the Federal Reserve Bank of Atlanta.
She is responsible for Supervision and Regulation's process and technology areas, which includes Information Technology and Security, Examination Support, Records and Database Management, Executive and Strategic MIS, Facilities and Crisis Management. During her 20 year Atlanta Fed career, Ms. Mauriello has held several positions of increasing responsibility across many departments.
She joined the Bank in 1994 in the Financial Management and Planning division, then moving to positions in the Retail Payments Office, and in 2005 she joined the Supervision and Regulation division as Director of the administration function.
Ms. Mauriello has an Accredited ACH Professional (AAP) certification and a degree in Economics from the University of Georgia, and executive education from Harvard Business School and Duke University. As well as the YWCA Board, Lani participates on the Boys and Girls Club Gwinnett County Board of Directors.
---
Board Member
Abigail MaCann
A product of public education in the great state of Maine, Abby is committed to closing the achievement and opportunity gap for the most underserved communities of students in America.  She began her career as a Teach for America corps member in South Louisiana. Her time teaching in Donaldsonville, LA, convinced her that she had much to learn about urban education, and she moved to Atlanta, GA, in search of school models successful in meeting the needs of low-income pupils.  This search lead her to Charles R. Drew Charter School and the East Lake community. After teaching at Drew for years, Abby was recruited to join a new start-up, Purpose Built Schools, founded with the goal of replicating Drew's highly-successful school model. An arm of Atlanta-based Purpose Built Communities, Purpose Built Schools supports public school districts across the nation in designing new charter and turnaround schools as part of holistic neighborhood revitalization efforts. As Coordinator of Teaching and Learning at Purpose Built Schools, Abby designs and facilitates professional development for the next generation of highly-successful urban school leaders. Abby graduated cum laude from Dartmouth College in 2011.
---
Board Member
Norene Mostkoff is President & CEO of Visiting Nurse Health System, Inc., a $60+ million nonprofit organization providing home healthcare, long-term care at home, and end-of-life hospice services to more than 7,000 patients and clients each day throughout greater Atlanta. Visiting Nurse employs approximately 750 professionals and operates the 36-bed Hospice Atlanta Center in Buckhead, the largest hospice facility in the state.
From 2009 to 2016, Norene was President and CEO of HCI-VNS Care Services of Iowa. HCI-VNS served more than 65,000 patients annually in 44 counties. In 2012, Norene successfully led the merger of Hospice of Central Iowa and Visiting Nurse Services of Iowa—the state's largest home care and hospice programs—to provide compassionate and effective community-based care to thousands of children, families and older Iowans. Under Norene's leadership, HCI-VNS was recognized as one of the best places to work in Iowa by the Des Moines Register, honored with the United Way of Central Iowa's Live United Give Award and the Better Business Bureau's Integrity Award.
Prior to HCI-VNS, Norene was the chief operating officer of HospiceCare Inc. (now Agrace HospiceCare) in Madison, Wisconsin, which provided end-of-life care to more than 500 patients each day. Norene has more than 25 years of experience in nonprofit management.  She was recently honored as the Outstanding Agency Leader of the Year by the Visiting Nurse Association of America, and Advocate of the Year by the United Way of Central Iowa.
Norene is active in many professional and community organizations. She is currently the Chair of the Visiting Nurse Association of America and a founding Board member of ElevatingHome. She served on Iowa's Mortuary Science Board, the State of Iowa Workforce Investment Board, and Iowa's Regional Workforce Investment Board (region 11) where she served as chair.
Norene earned an MBA from University of Wisconsin—Madison, and a BS degree in Mathematics Teaching from University of Illinois—Chicago. She lives in Atlanta, GA with her husband Sam and their dog Milo.
---
Board Member
Dr. Cynthia Neal Spence is an Associate Professor of Sociology at Spelman College and Director of the UNCF/Mellon Programs. As Director of the UNCF/Mellon Programs, Dr. Spence creates, manages and oversees a suite of future faculty development and faculty career enhancement programs for UNCF (United Negro College Fund) students and faculty. Under her leadership, students are groomed to enter the Ph.D. pipeline and faculty throughout the UNCF consortium are supported in their development as teachers and scholars. The UNCF/Mellon Programs are housed at Spelman College and are funded by the Andrew W. Mellon Foundation.
Her teaching and research interests in the areas of sociology, criminology, law and violence against women support the Law and Criminology concentration in the Department of Sociology and Anthropology. Dr. Spence has served in the capacities of Assistant Dean for Freshman Studies, Associate Academic Dean and Academic Dean at Spelman College. Her interest in issues of higher education access, service-learning, gender role socialization and violence against women frame her research, writing, community service involvement and public speaking. Her publications include "A Woman's College Perspective on the Education of Men" (2004) New Directors for Student Series and "The Spelman College Total Person Commits to Positive Social Change" (2006), Engaging Departments: Moving Faculty Cultures from Private to Public, Individual to Collective Force for the Common Good, "Does Race Trump Gender? Black Women Negotiating their Spaces of Intersection in the 2008 Presidential Campaign" which is included in the edited volume "Who Should Be First? Feminists Speak Out on the 2008 Presidential Campaign" (2010).
Dr. Spence serves as the Director for the Spelman College Social Justice Fellows Program. She is committed to helping Spelman women fully actualize their commitment to "making a choice to change the world" through social justice advocacy. She has served as consultant for the Ford Foundation Institutional Transformation Project, the University of Chicago Provost Initiative on Minority Affairs, the Agnes Scott College Center for Teaching and Learning and the Georgia Department of Corrections. She completed a two term appointment as Faculty Trustee on the Spelman College Board of Trustees and is the former chair of the Board of the non-profit agency Men Stopping Violence and former Chair of the Board of Directors of Georgia Women for Change (now the Women's Policy and Advocacy Group of the YWCA of Greater Atlanta). She is a Founding Member of the Women's Solidarity Society for the Center for Civil and Human Rights.
Dr. Spence is a graduate of Spelman College where she earned her B.A. degree. She earned both the Masters and Ph.D. degrees from Rutgers University. She is married to Harold W. Spence and they are the proud parents of two daughters, Christie and Courtnee.
---
Board Member
Natosha Reid Rice currently serves as the Associate General Counsel for Real Estate and Finance at Habitat for Humanity International where she initiates and manages financing programs and strategies to generate sources of capital that enable Habitat affiliates to provide decent, affordable housing to families throughout the country.
In addition to her work at Habitat, Natosha serves as an Associate Pastor, Women's Ministries at the historic Ebenezer Baptist Church in Atlanta, Georgia. She is also the founder of Fresh Rain for Life Ministries, a non-denominational ministry that provides a "sanctuary for women in the midst of life" through worship services, retreats, bible studies, workshops, and mission outreach.
Prior to joining Habitat, Natosha practiced law in the commercial real estate practices of Alston & Bird LLP, in Atlanta, Georgia and Paul, Weiss, Rifkind, Wharton and Garrison in New York City. While at these firms, she specialized in commercial real estate development transactions, acquisitions, dispositions and leasing.
Natosha is passionate about providing a voice to the voiceless and opportunities to communities that have been historically disadvantaged. She is a frequent speaker and facilitator for community/civic organizations, churches, colleges and corporate events on topics such as the intersection of faith and justice, race and gender justice, leadership development and community empowerment. In addition, Natosha is a past Board Chair for Georgia Women for a Change and currently serves on the boards of the YWCA of Greater Atlanta and Invest Atlanta's Atlanta Emerging Markets, Inc. which is a community development entity that seeks to spur job creation, economic development and neighborhood revitalization in under-served parts of the City of Atlanta. She has been actively involved in efforts to pass legislation and policy to protect victims of human sex trafficking in Georgia and provide for a fair workplace for women.
Natosha has received recognition and several awards for her work and leadership in the community. Recent honors include the YWCA Academy of Women Achievers, the Circle of Friends Pearl Award and the Church Women United (Atlanta Unit) Outstanding Young Woman. Natosha was also a member of the Leadership Atlanta Class of 2014.
Natosha received her J.D. from Harvard Law School and her B.A. in Government with honors from Harvard/Radcliffe College where she was a Harvard/Radcliffe Class Marshall and awarded the Captain Jonathan Fay Prize (Radcliffe's Highest Honor) and the E.P. Saltonstall Prize. Natosha lives in metro Atlanta with her husband Corey Rice and their children, Kayla, Malachi and Caleb.
---
Board Member
Nita Sardana is the Vice President of Community Outreach and Corporate Giving at ACS Group. She is responsible for all community engagement and philanthropic programs for the ACS family of companies. In this role, Nita is continuously looking for opportunities to support the communities that ACS Group serves.
Nita is heavily involved with the YWCA of Greater Atlanta's Teen Girls in Technology (TGI Tech) Program, which strives to empower young women by increasing their interest and confidence in STEM fields and helping put these young women on the path to forging successful careers in STEM positions. ACS Group has been supporting the TGI Tech program for more than ten years, starting in 2006 when the program was still in its infancy.
Previously, Nita served as the Corporate Secretary, Treasurer, and Business Manager for ACS in its earlier days. She has also run several small independent commercial organizations engaged in consumer retail and services for more than 15 years.
Nita has won multiple awards for her philanthropic efforts. Most recently, she was an honoree at the 2014 YWCA of Greater Atlanta Salute to Women of Achievement. She was also a nominee for the Barbara B. Rose Volunteer of the Year Award in 2011. Nita has a Bachelor of Arts in Finance and Management Information Systems from the University of Illinois at Chicago.
---
Board Member
Ms. Ingrid Saunders Jones is the Chair of the National Council of Negro Women, Inc. (NCNW), a 501(c)3 non-profit.
As one of the oldest organizations dedicated to advancing opportunities for African American women and their families, NCNW is an "organization of organizations" comprised of a network of 37 national African American women's organizations and 240 local community-based and collegiate sections, connecting nearly three million women worldwide.
As NCNW Chair, Ms. Jones has led NCNW in a strategic transformation that has revitalized the organization and increased its efforts in education, health, economic empowerment and public policy to effect major change in African American communities across the nation. Currently, she is taking the organization to new heights by executing her forward-looking vision with innovative actions, new programs and new partners designed to meet the demands and challenges facing families and communities today.
Ms. Jones, a well-respected global leader, retired in 2012 from The Coca-Cola Company as Senior Vice President of Global Community Communications and Chair of The Coca-Cola Foundation. During her three-decade Coca-Cola career, she held roles of increasing responsibility focusing on the company's corporate giving and community outreach. During her tenure, she expanded the company's philanthropic outreach and grew the U.S. corporate giving program into a global initiative that touched millions of lives each year.
Under her leadership as Senior Vice President of Global Community Communications and Chair of The Coca-Cola Foundation, The Coca-Cola Foundation awarded over $500 million to community organizations. These organizations included the United Negro College Fund, Hispanic Scholarship Fund, Catalyst—the Critical Difference for Women Program at Ohio State University, Boys and Girls Clubs of America, the World Wildlife Fund, Girls Scouts of the United States of America and The Coca-Cola First Generation Scholarship Program, to name a few.
Prior to joining The Coca-Cola Company in 1982, Ms. Jones had a variety of work experiences. She taught in public schools in Detroit, MI and Atlanta, GA early in her career, and later went on to serve as the Executive Director of Detroit Wayne County Child Care Coordinating Council. In 1977, she became a fellow in the Atlanta Fellows Program and was assigned to the Atlanta City Council. After her fellowship year, she moved on to serve as the Legislative Analyst in the Office of the President of the Atlanta City Council. Two years later, Ms. Jones joined the Mayor's office as Executive Assistant to The Honorable Maynard H. Jackson, Jr.
Her commitment to community development extends beyond the doors of NCNW headquarters and she currently serves on several national and local boards. These boards include the National Center for Civil and Human Rights, The Carter Center, the Congressional Black Caucus Foundation, the Woodruff Arts Center, and Clark-Atlanta University. Ms. Jones is a member of the Comcast NBC/Universal Diversity Council, the Rotary Club of Atlanta, the Society of International Business Fellows, Delta Sigma Theta Sorority, Inc., and the Links.
---
Board Member
Alicia Thompson, APR has more than 20 years of experience developing and implementing marketing, corporate and crisis/issues management communications strategy and programs. She currently serves as General Manager of Edelman's Atlanta office where she oversees the execution and integration of client programs.
Prior to joining Edelman, Alicia served as VP of Corporate Communications & PR for Popeyes Louisiana Kitchen.
Alicia serves on Board of Directors of the YWCA of Greater Atlanta, the Board of Advisors of The Plank Center and the College of Charleston Department of Communication Advisory Council.
Alicia holds a bachelor of arts in English from the University of North Carolina at Charlotte and a masters of arts in Speech Communications from the University of North Carolina at Greensboro. She is also Accredited in Public Relations (APR) – by the Public Relations Society of America's Universal Accreditation Board.
---
Board Member
Jennifer Winn serves as the general manager of Natural Resources, where she is responsible for leading the Sales, Acquisition and Natural Resource Management teams to optimize the value of Georgia Power's property assets while protecting and enhancing the state of Georgia's natural resources through stewardship.
Winn began her career with Southern Nuclear as an engineer at Farley Nuclear Plant in 2005. In 2009, Winn transitioned to the Vogtle 3 and 4 construction project where she led internal and external reporting and was responsible for regulatory filings and interface with the PSC Staff and the DOE for the Vogtle 3 and 4 project. Winn served as assistant to the Georgia Power chairman, president and CEO from 2014 to 2016 and prior to her current role, she was general manager of Environmental Affairs, responsible for leading the Operations and Compliance team.
A native of Troy, Alabama, Winn earned a bachelor's degree in chemical engineering from Auburn University. She serves as the 2018 Chair for the Metro Atlanta Chamber Young Professional Council, on the Board of Directors for Keep Georgia Beautiful Foundation and the YWCA of Greater Atlanta and the Board of Trustees for the Georgia Trust for Historic Preservation. Winn is active in alumni activities through the Auburn University College of Engineering's Young Alumni Council and 100 Women Strong.
---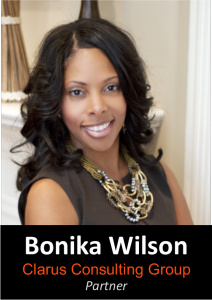 Board Member
Bonika Wilson is a partner in the Atlanta office of Clarus Consulting Group. She leads business development in Georgia and the Carolinas and provides leadership to a team of consultants who pride themselves on leveraging analytics to offer innovative solutions to complex change initiatives and strategic planning.
Over twenty years of experience guiding business through complex and organizational challenges coupled with Bonika's background in banking and financial services, results in operational excellence transformations that improve clients' bottom line. Bonika takes a systematic and strengths-based approach to enterprise effectiveness by helping teams understand that people are at the core of structural and cultural change. Her work includes developing dynamic and highly functional teams through coaching as well as leadership and diversity and inclusion training. Additionally, Bonika works with companies to provide cognitive bias training that is grounded in an evidence-based psychological approach.
Bonika is founder and past president of Wilson Capital Management Inc. a management consulting firm. Prior to Wilson Capital Management, she spent over fourteen years in the financial services sector, including serving as senior vice president at SunTrust Bank.
Bonika received her BA from Virginia State University and a MA in Organizational Behavior/Human Resources Development from The George Washington University Graduate School of Education and Human Development. She cofounded I am My Brothers/Sisters Keeper; a 501C3 nonprofit organization that focuses on mentoring economically challenged teenagers. She holds several board positions, which include YWCA of Central Alabama, Leading Edge Institute and Birmingham Children's Theatre.
In addition, she works with numerous nonprofit organizations on fund development and strategic planning. Bonika has been recognized as a 2009 Brava Women of The Year nominee by Smart CEO magazine, 2009 Impact Award honoree by The George Washington University, 2010 Top 100 under 50 Executive Leader by Diversity MBA Magazine, Who's Who of Alabama 2011, Ten on Top by Birmingham Market Magazine 2011, 2012 Minority Business of the Year by Cox Media, 2012 Smart Woman by The Women's Fund of Central Alabama, Top 40 Under 40 by Birmingham Business Journal, 2013 Women of Distinction by The Girl Scouts, 2013 Women Who Make A Difference by The Birmingham News, 2013 Top CEO by the Business Journal and 2015 Power List by the Story Exchange.
Through Bonika's organizational development work and strong community service, she is often called upon to speak in front of large audiences regarding business financing, motivating teams, empowerment and leadership. A resident of Atlanta, Georgia, Bonika enjoys spending time with her husband, Donta and their children.
---
Lifetime Honorary Board Member
Ann Stallard is a successful CEO, entrepreneur and committed community activist. Her success as a business person resulted in an extensive regional reputation for client service and selection by her peers for several prestigious awards.
Her commitment to community has led to increasingly important volunteer leadership roles on regional, national and international platforms.Over a 35-year career, she helped lead Graphic Communications Corporation from a trusted printing company to a multimillion-dollar provider of communication solutions; all within an industry that itself was going through upheaval and radical change. During that time, Ann consistently focused on utilizing the best technology possible in commercial printing, imaging and fulfillment. She was recognized by the Printing & Imaging Association of Georgia (PIAG) for her visionary innovation and advancement, especially among women and young people in the industry. Ann has also received numerous awards – in 2010 the Atlanta Business Chronicle named Ann as one of the 100 most influential people in metro Atlanta, and in 2005 Ann was the first woman CEO to receive the Turknett Ethical Leadership Award.
A graduate of Leadership Atlanta, Ann has served on many boards and has been appointed to several state commissions. Between 1991-1996 Ann served as president of the YWCA USA, and from 1996-2002 she served on the global board of the World YWCA in Geneva, Switzerland, representing 121 counties and 25 million women and girls. Ann co-founded the Women's Leadership Council of United Way with Dr. Johnnetta B. Cole and Anne Kaiser in 2000. This council is now a national force of more than 56,000 volunteers who raise $180 million annually. From 2009 – 2001, Ann was the Chairman of the Board of Trustees, United Way of America—the country's largest nonprofit with 1300 affiliates and a budget of $3.4 billion. During her tenure, United Way of America transformed into United Way Worldwide.
In 2012 Graphic Communications Corporation was sold and Ann entered a new phase by becoming a senior advisor for the Oxford Center for Entrepreneurs.
Ann often describes herself as a serial social entrepreneur who attempts to combine best business practices in order to improve a community's quality of life in fundamental ways. Ann believes that a symbiotic partnership between businesses, government and nonprofits holds the key to solving some of our most critical issues.