Providing children with a safe and nurturing educational experience.
Read below for details about the After School and Camp Programs including applications and payment options.
Early childhood education programs are vital for community viability and productivity. They play a critical role in a child's development and school readiness and are a necessity for many working families.
Licensed under Bright from the Start, our Early Learning Academy (ELA) is committed to providing working families with quality, affordable childcare and early education for children ages six weeks through five years from 7:00 AM to 6:30 PM daily. Students receive cognitive, social, and emotional development in a nurturing environment and, upon graduating, are fully prepared for kindergarten and future academic success.
"The quality of childcare the YWCA provides speaks volumes as the children grow and develop. That quality remains evident years after they graduate from ELA."
-Danielle Wilson, Proud Parent of YWCA Atlanta Pre-K Graduate
We currently have spaces available in our preschool classrooms.
Please email us at

[email protected]

for details.
---
After School Program
Register today for the YWCA of Greater Atlanta's 2019 – 2020 After School Program!
We provide transportation from Morningside Elementary School and Springdale Elementary School and a safe and nurturing environment with homework assistance, nutritious snacks, arts and crafts and physical activities.
Care is available from the first day of school on August 12, 2019 for children attending kindergarten through fifth grade.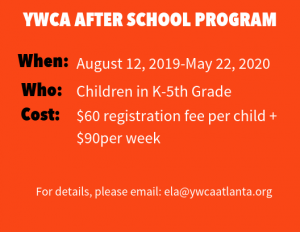 To register your child:
Download the After School Program application and pay the registration fee below.
You can also visit the YWCA and pick up your application at the front desk.
Send us an email at

[email protected]

with any questions you may have.
To pay registration or weekly fee online:
Add the registration fee to your cart.
If also paying the Weekly Fee, press "continue shopping" at the bottom of the page to return to the After School Program page and add the Weekly Fee to your cart.
Repeat Step 2 for additional children.
Complete your purchase.