---
Board Chair
Sarah Lattimer Irvin is President and CEO of Metrics Marketing, a full-service, multicultural, advertising and public relations agency with a focus on the African-American, particularly female, segments.
Throughout her illustrious 25-year career as a marketing, advertising and sales professional, Sarah has spearheaded highly successful, integrated, multicultural marketing campaigns.
Before starting Metrics Marketing, Sarah served as Vice President for several Atlanta and New York advertising firms, establishing a presence for clients interested in the competitive advantages offered by multicultural audiences.
Under her guidance, Metrics Marketing completed a national, groundbreaking study, "A Profile of Today's Black Woman" that received national media attention because it was the first study of its kind to identify six unique personas of African-American women. Sarah is also published in Pepper Miller's latest book, "Black Still Matters in Marketing," having written a chapter, "Under the Radar: Black Women."
Sarah is a member of the MAGNET marketing and advertising global network, the American Association of Advertising Agencies' Atlanta Board of Governors, the Metro Atlanta Chamber of Commerce and the Atlanta Business League. She serves on the Board of Visitors of the Centers for Disease Control (CDC) and the YWCA of Greater Atlanta. Sarah was named one of the 100 Most Influential African-American Women in Atlanta by the Atlanta Business League in both 2008 and 2009. She was a finalist in the Atlanta Business League's Outstanding Achievement Woman of the Year in 2011. Rolling Out Magazine most recently named her one of the Top 25 Most Influential Women of Atlanta.
---
Vice Chair 
Dr. Cynthia Neal Spence is an Associate Professor of Sociology at Spelman College and Director of the UNCF/Mellon Programs. As Director of the UNCF/Mellon Programs, Dr. Spence creates, manages and oversees a suite of future faculty development and faculty career enhancement programs for UNCF (United Negro College Fund) students and faculty. Under her leadership, students are groomed to enter the Ph.D. pipeline and faculty throughout the UNCF consortium are supported in their development as teachers and scholars. The UNCF/Mellon Programs are housed at Spelman College and are funded by the Andrew W. Mellon Foundation.
Her teaching and research interests in the areas of sociology, criminology, law and violence against women support the Law and Criminology concentration in the Department of Sociology and Anthropology. Dr. Spence has served in the capacities of Assistant Dean for Freshman Studies, Associate Academic Dean and Academic Dean at Spelman College. Her interest in issues of higher education access, service-learning, gender role socialization and violence against women frame her research, writing, community service involvement and public speaking. Her publications include "A Woman's College Perspective on the Education of Men" (2004) New Directors for Student Series and "The Spelman College Total Person Commits to Positive Social Change" (2006), Engaging Departments: Moving Faculty Cultures from Private to Public, Individual to Collective Force for the Common Good, "Does Race Trump Gender? Black Women Negotiating their Spaces of Intersection in the 2008 Presidential Campaign" which is included in the edited volume "Who Should Be First? Feminists Speak Out on the 2008 Presidential Campaign" (2010).
Dr. Spence serves as the Director for the Spelman College Social Justice Fellows Program. She is committed to helping Spelman women fully actualize their commitment to "making a choice to change the world" through social justice advocacy. She has served as consultant for the Ford Foundation Institutional Transformation Project, the University of Chicago Provost Initiative on Minority Affairs, the Agnes Scott College Center for Teaching and Learning and the Georgia Department of Corrections. She completed a two term appointment as Faculty Trustee on the Spelman College Board of Trustees and is the former chair of the Board of the non-profit agency Men Stopping Violence and former Chair of the Board of Directors of Georgia Women for Change (now the Women's Policy and Advocacy Group of the YWCA of Greater Atlanta). She is a Founding Member of the Women's Solidarity Society for the Center for Civil and Human Rights.
Dr. Spence is a graduate of Spelman College where she earned her B.A. degree. She earned both the Masters and Ph.D. degrees from Rutgers University. She is married to Harold W. Spence and they are the proud parents of two daughters, Christie and Courtnee.
---
Treasurer 
As a Senior Relationship Manager on the Commercial Banking team, Tyan is active in attracting, growing, advising, and retaining long term relationships with companies in the Metro Atlanta area, whose revenues range from $5 million to $100 million+.
Prior to joining State Bank & Trust Company in November 2017, Tyan worked for PNC Bank, NA. (and its predecessor RBC Bank) for 10 years.  She began her career at JPMorgan Chase 15 years ago where she received formal credit training as part of the Commercial Banking analyst program in New York City.
State Bank & Trust's Commercial Banking Team offers a comprehensive array of products and services – financing, treasury management, asset based lending, equipment financing and more.
Tyan holds a Bachelor of Arts degree in Economics from Spelman College in Atlanta, Georgia. She maintains active involvement in several community service organizations including Cool Girls, YWCA and Boys and Girls Clubs.
---
Secretary 
Jennifer Winn serves as the general manager of Natural Resources, where she is responsible for leading the Sales, Acquisition and Natural Resource Management teams to optimize the value of Georgia Power's property assets while protecting and enhancing the state of Georgia's natural resources through stewardship.
Winn began her career with Southern Nuclear as an engineer at Farley Nuclear Plant in 2005. In 2009, Winn transitioned to the Vogtle 3 and 4 construction project where she led internal and external reporting and was responsible for regulatory filings and interface with the PSC Staff and the DOE for the Vogtle 3 and 4 project. Winn served as assistant to the Georgia Power chairman, president and CEO from 2014 to 2016 and prior to her current role, she was general manager of Environmental Affairs, responsible for leading the Operations and Compliance team.
A native of Troy, Alabama, Winn earned a bachelor's degree in chemical engineering from Auburn University. She serves as the 2018 Chair for the Metro Atlanta Chamber Young Professional Council, on the Board of Directors for Keep Georgia Beautiful Foundation and the YWCA of Greater Atlanta and the Board of Trustees for the Georgia Trust for Historic Preservation. Winn is active in alumni activities through the Auburn University College of Engineering's Young Alumni Council and 100 Women Strong.
---
Immediate Past Board Chair
Bari R. Love is president of InReach Partners. InReach works with companies and individuals to develop leadership blueprints that convert vision and purpose into actionable activities for civic, non-profit, community and political engagement.
She most recently served as SVP, Communications & Marketing for the Metro Atlanta Chamber (MAC). Prior to that, she spent 25 years leading marketing, PR and advertising agencies.[/one-half]
Bari serves on numerous boards and most recently co-chaired the "Power to Inspire" Tribute Dinner for the Center for Civil and Human Rights. In 2015, she was inducted into the YWCA Academy of Women Achievers and received the George Goodwin Award for life-long commitment to our community. She is a graduate of the University of Alabama and the 2006 Class of Leadership Atlanta.
---
Board Member
Dr. Diamond M. Ford is the founding principal of the only Pre-K through 8th grade EL/STEM Academy in the Atlanta Public School system, Hollis Innovation Academy. An Atlanta native and Alumni of Atlanta Public School system, she received her Bachelor's in Middle Grades Mathematics and Science at Clark Atlanta University and her Master's in Educational Leadership from the University of West Georgia.
Dr. Ford's educational career includes roles as a middle school science teacher and district level math and science instructional coach for elementary and middle school. She was recognized as Stellar Principal of the Year by Atlanta Public Schools and was also named one of Atlanta's 100 Influential Black Women.
Dr. Ford has a great passion for teaching and creating programs that focus on developing the whole child through rigorous and relevant curriculum. She has successfully created environments for students that nurture their creativity, support their social-emotional development, and help fill academic gaps.
---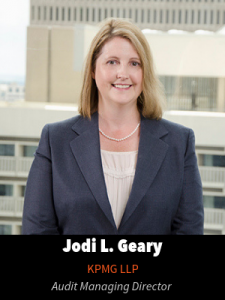 Board Member
Jodi Geary is a Managing Director with KPMG LLP. She specializes in the not-for-profit, higher education, and government industry.  Prior to joining KPMG, she was an auditor with the State of Tennessee's Comptroller of the Treasury, specializing in local government audits. With over 20 years of audit experience, Jodi has extensive experience providing financial statement audits and Uniform Guidance audit services to many diverse clients. Jodi has consistently proven to be an effective audit  leader through directing and guiding engagement teams, identifying and resolving audit and accounting issues, and working with clients to achieve high quality audits by employing a project management approach.
Jodi has served as a national audit instructor and an in-flight quality control reviewer for KPMG. She is a member of KPMG's network of women (KNOW). For over 4 years, she also has served as a Board member and treasurer for the Georgia Council of Camp Fire USA.
Jodi earned her BS degree in Accounting from Tennessee Technological University and is a CPA licensed in both Georgia and New Hampshire. She is also a certified Government Financial Manager and a member of the Association of Governmental Accountants.
Jodi resides in Cobb County with her husband and two children, Alexandra and Braden.  When not at work, she can be found going to baseball games and dance performances.
---
---
Board Member
Carla Dillard Homer has been with the American Red Cross since June 2013 as the Regional Chief Operating Officer for the Georgia Region.
Her responsibilities include oversight of the region's general operations including expense budget, facilities, fleet management and human resources. She is also responsible for the Georgia Services to the Armed Forces program which supports active duty, veteran, and reserve military personnel.
Carla began her career with Grant Thornton Accounting Firm and Time Warner, Inc., in New York City in a public accounting and auditing capacity. She served her first tenure with the American Red Cross at the Metropolitan New Jersey Chapter as both Chief Financial Officer and Chief Operating Officer. After graduate school, she joined BellSouth as a member of the LEAD program where she led many strategic and operational planning efforts throughout both the Consumer and Internet business units eventually joining AT&T as a Director, overseeing the company's Small Business website. After seven years with BellSouth/AT&T, Carla began her own company lending her expertise to various entities assisting them to launch and expand their businesses. Throughout this time, Carla has maintained her passion for service and mission-based work by volunteering for several non-profits.
Carla is a graduate of Howard University with a degree in Accounting and Early Childhood Education. She also has her MBA, with an emphasis in Strategy and Finance, from the University of Michigan. She maintains numerous certifications including CPA, Project Management and Six Sigma Green Belt.
Carla resides in Atlanta, Georgia, with her husband and two children.
---
Board Member
Janin Hutcheson serves as a pilot for Southwest Airlines where she enjoys flying the Boeing 737 throughout their network.
Born in Fort Leavenworth, Kansas, to a US army officer and his family, Janin lived in many exciting places including Germany and Alaska before the family settled in San Jose, California. Janin found her career aspiration and began flying lessons while in high school. She continued her flying in college while earning a B.S. in Aeronautical Science from the University of North Dakota in Grand Forks. Janin began her professional career as a pilot with Mesaba Airlines where she flew SAAB 340 aircraft based in Detroit and later in Memphis, Tenn. In 2005, she joined AirTran Airways as a pilot based in Atlanta flying the Boeing 717. In addition to her flying duties at AirTran Airways, Janin helped recruit and interview pilots for the airline.
After nearly ten years of service, Janin had the honor of flying the last AirTran Airways flight from Atlanta to Tampa, Fla., on December 28, 2014. Southwest Airlines acquired AirTran Airways and Janin transitioned to the Boeing 737 after months of training in Dallas in 2015. She loves flying big jets and really enjoys the view from her office.When not flying a 737 for Southwest, Janin enjoys traveling, reading, knitting, cooking and bicycling. Janin is involved in the Atlanta community and serves on the Penn Lyons Scholarship Committee at The Community Foundation for Greater Atlanta. In addition, Janin serves on the boards of Kenny Leon's True Colors Theatre and the YWCA of Greater Atlanta.
Janin and her husband, Tad, a Delta Air Lines employee, make their home in downtown Atlanta.
---
Board Member
Ms. Ingrid Saunders Jones is the Past Chair of the National Council of Negro Women, Inc. (NCNW), a 501(c)3 non-profit.
As one of the oldest organizations dedicated to advancing opportunities for African American women and their families, NCNW is an "organization of organizations" comprised of a network of 37 national African American women's organizations and 240 local community-based and collegiate sections, connecting nearly three million women worldwide.
As NCNW Chair, Ms. Jones has led NCNW in a strategic transformation that has revitalized the organization and increased its efforts in education, health, economic empowerment and public policy to effect major change in African American communities across the nation. She has taken the organization to new heights by executing her forward-looking vision with innovative actions, new programs and new partners designed to meet the demands and challenges facing families and communities today.
Ms. Jones, a well-respected global leader, retired in 2012 from The Coca-Cola Company as Senior Vice President of Global Community Communications and Chair of The Coca-Cola Foundation. During her three-decade Coca-Cola career, she held roles of increasing responsibility focusing on the company's corporate giving and community outreach. During her tenure, she expanded the company's philanthropic outreach and grew the U.S. corporate giving program into a global initiative that touched millions of lives each year.
Under her leadership as Senior Vice President of Global Community Communications and Chair of The Coca-Cola Foundation, The Coca-Cola Foundation awarded over $500 million to community organizations. These organizations included the United Negro College Fund, Hispanic Scholarship Fund, Catalyst—the Critical Difference for Women Program at Ohio State University, Boys and Girls Clubs of America, the World Wildlife Fund, Girls Scouts of the United States of America and The Coca-Cola First Generation Scholarship Program, to name a few.
Prior to joining The Coca-Cola Company in 1982, Ms. Jones had a variety of work experiences. She taught in public schools in Detroit, MI and Atlanta, GA early in her career, and later went on to serve as the Executive Director of Detroit Wayne County Child Care Coordinating Council. In 1977, she became a fellow in the Atlanta Fellows Program and was assigned to the Atlanta City Council. After her fellowship year, she moved on to serve as the Legislative Analyst in the Office of the President of the Atlanta City Council. Two years later, Ms. Jones joined the Mayor's office as Executive Assistant to The Honorable Maynard H. Jackson, Jr.
Her commitment to community development extends beyond the doors of NCNW headquarters and she currently serves on several national and local boards. These boards include the National Center for Civil and Human Rights, The Carter Center, the Congressional Black Caucus Foundation, the Woodruff Arts Center, and Clark-Atlanta University. Ms. Jones is a member of the Comcast NBC/Universal Diversity Council, the Rotary Club of Atlanta, the Society of International Business Fellows, Delta Sigma Theta Sorority, Inc., and the Links.
---
Board Member
Dionne L. Mack was senior director of global diversity and inclusion for Cox Automotive.  In this role, Dionne was responsible for leading the design and execution of business specific diversity and inclusion strategies and solutions.  These strategies and solutions are aimed at building the diversity of the workforce and promoting a culture of inclusion and respect with an end goal of promoting innovation, creativity, increased productivity and improved business performance.  She sought to enhance Cox Automotive's brand as an employer of choice and inclusion thought leader in the Automotive & Technology industry.
Dionne brought more than 20 years of varied HR experience to Cox Automotive.  For the four (4) years prior to joining Cox, she led the diversity and inclusion teams for Lockheed Martin's IT and Space businesses. Prior to joining Lockheed Martin, Dionne spent almost ten years of her career at MetLife where she led the diversity, inclusion and HR compliance program for the Americas in her role as Diversity Director.  She also has a background in Employee Relations and EEO/Affirmative Action compliance across various industries including finance, academia and local government.
Dionne has studied at Pace University, State University of New York and the University of Phoenix, and obtained her degrees in Business Administration and Management.  More importantly, her passions include fishing, dog training and French fries.  In her free time, she serves at the beck and call of her daughter, Felicity, grandchildren – Kennedy & Mason, and six younger siblings who all believe she only exists to be their entertainment and uncompensated life coach.
---
Board Member
Lani Mauriello is an Assistant Vice President in the Supervision and Regulation division at the Federal Reserve Bank of Atlanta.
She is responsible for Supervision and Regulation's process and technology areas, which includes Information Technology and Security, Examination Support, Records and Database Management, Executive and Strategic MIS, Facilities and Crisis Management. During her 20 year Atlanta Fed career, Ms. Mauriello has held several positions of increasing responsibility across many departments.
She joined the Bank in 1994 in the Financial Management and Planning division, then moving to positions in the Retail Payments Office, and in 2005 she joined the Supervision and Regulation division as Director of the administration function.
Ms. Mauriello has an Accredited ACH Professional (AAP) certification and a degree in Economics from the University of Georgia, and executive education from Harvard Business School and Duke University. As well as the YWCA Board, Lani participates on the Boys and Girls Club Gwinnett County Board of Directors.
---
Board Member
A product of public education in the great state of Maine, Abby is committed to closing the achievement and opportunity gap for the most underserved communities of students in America.  She began her career as a Teach for America corps member in South Louisiana. Her time teaching in Donaldsonville, LA, convinced her that she had much to learn about urban education, and she moved to Atlanta, GA, in search of school models successful in meeting the needs of low-income pupils.  This search lead her to Charles R. Drew Charter School and the East Lake community. After teaching at Drew for years, Abby was recruited to join a new start-up, Purpose Built Schools, founded with the goal of replicating Drew's highly-successful school model. An arm of Atlanta-based Purpose Built Communities, Purpose Built Schools supports public school districts across the nation in designing new charter and turnaround schools as part of holistic neighborhood revitalization efforts. As Coordinator of Teaching and Learning at Purpose Built Schools, Abby designs and facilitates professional development for the next generation of highly-successful urban school leaders. Abby graduated cum laude from Dartmouth College in 2011.
---
Board Member
Katharine Voyles Mobley is an award-winning marketer with a proven track record of driving revenue growth for global brands and technology companies. Currently, Katharine serves as the Chief Marketing Officer for First Advantage, a global background screening company with 26 locations and 4,500 employees worldwide.
As a member of the executive team and Women's Leadership Council, Katharine is an essential leader tasked with developing marketing strategies that increase revenue and drive change throughout North America, APAC, India, and EMEA. As technical marketer with sales DNA, Katharine develops strategies that unite demand generation, brand loyalty programs, and executive thought leadership for emerging and hyper-growth organizations. Throughout her 20-year tenure as a marketer, Katharine has been dedicated to blazing a trail for the next generation of women in technology. In addition to her roles in marketing leadership, her prior experience included managing brands such as Coca-Cola, Bank of America, Michelin and Dodge Automotive through her roles at global agencies: BBDO, Millward Brown and Allison+Partners. An Atlanta native, Katharine is a proud graduate of The University of Georgia with a BA in Marketing from Terry College of Business.
She was named one of three women in the state of Georgia by OnBoard's 2018 Executive Honor Roll, as a leading female executive prepared for corporate board memberships. Additionally, she received the Bronze Stevie® Award for Female Executive of the Year Internationally this November. Katharine resides in Cherokee County with her husbands and two sons, Christopher and Andrew.
---
---
Board Member
Tameka Rish enters her 17th season in the National Football League and her 15th with the Falcons. As Vice President of Corporate Partnerships for AMBSE, Rish leads the consulting team that develops and maintains corporate partnerships for Mercedes-Benz Stadium, the Atlanta Falcons, and Atlanta United. This includes managing numerous experiential events, activating promotional rights, television, radio, print, and digital advertising, custom experiences, game day activations, hospitality and signage build outs at Mercedes-Benz Stadium.
During her time in Atlanta, Tameka has not only ensured that Falcons corporate partners receive the maximum return on their partnership, but she has also been responsible for the development of several sports marketing careers as 40 former interns and associates continue to work within the field today. When not working for AMBSE, Tameka serves on the Children's Healthcare of Atlanta's Sports Network Board and focuses on humanitarian efforts to fight human trafficking. Rish is a member of the University of Georgia's 2018 40 Under 40 Class.
Prior to coming to AMBSE, Rish worked for Octagon out of Connecticut on their Drive for the Cure mobile tour with BMW and Susan G. Komen. She interned with the Carolina Panthers, and her NFL career started with the Houston Texans in 2003. While in Houston, she worked on Super Bowl XXXVIII as a part of the NFL's PR team. She began working in football in 1998 at the University of North Carolina in their Football Coaches Video Department videoing practices and games, creating highlights and cuts-ups.
A native of Sylva, NC, Rish holds a Bachelor's in Journalism with a focus in Broadcasting and Public Relations from the University of North Carolina at Chapel Hill and a Master's degree in Sports Management from the University of Georgia.
---
Board Member
Nita Sardana is the Vice President of Community Outreach and Corporate Giving at ACS Group. She is responsible for all community engagement and philanthropic programs for the ACS family of companies. In this role, Nita is continuously looking for opportunities to support the communities that ACS Group serves.
Nita is heavily involved with the YWCA of Greater Atlanta's Teen Girls in Technology (TGI Tech) Program, which strives to empower young women by increasing their interest and confidence in STEM fields and helping put these young women on the path to forging successful careers in STEM positions. ACS Group has been supporting the TGI Tech program for more than ten years, starting in 2006 when the program was still in its infancy.
Previously, Nita served as the Corporate Secretary, Treasurer, and Business Manager for ACS in its earlier days. She has also run several small independent commercial organizations engaged in consumer retail and services for more than 15 years.
Nita has won multiple awards for her philanthropic efforts. Most recently, she was an honoree at the 2014 YWCA of Greater Atlanta Salute to Women of Achievement. She was also a nominee for the Barbara B. Rose Volunteer of the Year Award in 2011. Nita has a Bachelor of Arts in Finance and Management Information Systems from the University of Illinois at Chicago.
---
---
Board Member
Since June of 2018, Rukiya Thomas serves Atkins as VP, Regional Business Development & Strategy Director of Georgia.
Over the last 16 years, Rukiya has built an extensive career focused on transit and community development. Most recently Rukiya was Chief of Staff at Metropolitan Atlanta Rapid Transit Authority (MARTA) where she worked directly with the Board of Directors and top leadership to develop the strategy and executive agenda for delivering MARTA's vision. She was also responsible for working with the internal stakeholders and external partners to drive MARTA's priorities and initiatives. Prior to MARTA, Rukiya headed up external affairs as a part of a start-up team that launched the historic Atlanta Beltline.
A leader in her industry, Rukiya serves on the Board of Directors for Women in Transportation (WTS) and on the Next Generation Advisory Board for Citizens Trust Bank. She is also an active member of the American Public Transportation Association (APTA), the Conference of Minority Transportation Officials (COMTO), and the Urban Land Institute. Additionally, she is a proud graduate of Leadership APTA and Leadership Georgia as well as been selected for Atlanta Business Chronicle's and MAss Transit's 40 under 40 lists.
---
Board Member
Ashani Johnson-Turbes, PhD, is a Principal Research Scientist with NORC at the University of Chicago.  She is a social scientist with over 18 years of experience in public health, health communication and social marketing research. Dr. Johnson-Turbes blends her academic background in political science, quantitative methods, and public policy with years of work in public health, health communication, social marketing and evaluation.  Johnson-Turbes directs and provides conceptual and technical expertise on a variety of community-based, state and national qualitative and quantitative and mixed method studies, particularly studies to develop and evaluate public health interventions, consumer-directed health communication and social marketing health promotion campaigns to reduce health disparities and promote health equity.  She received her BA from Hampton University, and her MA and PhD from Purdue University.  Dr. Johnson-Turbes also studied international policy at Leiden University in the Netherlands, political science and quantitative methods at the University of Chicago.  She has published her work in peer reviewed journals and presented at national conferences.
---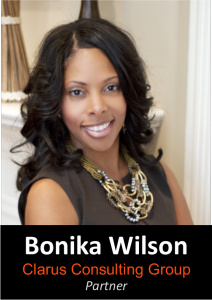 Board Member
Bonika Wilson is a partner in the Atlanta office of Clarus Consulting Group. She leads business development in Georgia and the Carolinas and provides leadership to a team of consultants who pride themselves on leveraging analytics to offer innovative solutions to complex change initiatives and strategic planning.
Over twenty years of experience guiding business through complex and organizational challenges coupled with Bonika's background in banking and financial services, results in operational excellence transformations that improve clients' bottom line. Bonika takes a systematic and strengths-based approach to enterprise effectiveness by helping teams understand that people are at the core of structural and cultural change. Her work includes developing dynamic and highly functional teams through coaching as well as leadership and diversity and inclusion training. Additionally, Bonika works with companies to provide cognitive bias training that is grounded in an evidence-based psychological approach.
Bonika is founder and past president of Wilson Capital Management Inc. a management consulting firm. Prior to Wilson Capital Management, she spent over fourteen years in the financial services sector, including serving as senior vice president at SunTrust Bank.
Bonika received her BA from Virginia State University and a MA in Organizational Behavior/Human Resources Development from The George Washington University Graduate School of Education and Human Development. She cofounded I am My Brothers/Sisters Keeper; a 501C3 nonprofit organization that focuses on mentoring economically challenged teenagers. She holds several board positions, which include YWCA of Central Alabama, Leading Edge Institute and Birmingham Children's Theatre.
In addition, she works with numerous nonprofit organizations on fund development and strategic planning. Bonika has been recognized as a 2009 Brava Women of The Year nominee by Smart CEO magazine, 2009 Impact Award honoree by The George Washington University, 2010 Top 100 under 50 Executive Leader by Diversity MBA Magazine, Who's Who of Alabama 2011, Ten on Top by Birmingham Market Magazine 2011, 2012 Minority Business of the Year by Cox Media, 2012 Smart Woman by The Women's Fund of Central Alabama, Top 40 Under 40 by Birmingham Business Journal, 2013 Women of Distinction by The Girl Scouts, 2013 Women Who Make A Difference by The Birmingham News, 2013 Top CEO by the Business Journal and 2015 Power List by the Story Exchange.
Through Bonika's organizational development work and strong community service, she is often called upon to speak in front of large audiences regarding business financing, motivating teams, empowerment and leadership. A resident of Atlanta, Georgia, Bonika enjoys spending time with her husband, Donta and their children.
---
Board Member
Ayla Zamangil is a Director of Development for the Southeast Region at CARE USA. She has the privilege of working with the families and individuals who support CARE's mission to end global poverty. As a native of Atlanta, GA, who grew up between the United States and Turkey, she is thrilled to be working with local communities across the Southeast to catalyze CARE's work.
Ayla has bachelor's degrees in International Affairs and Sociology from The University of Georgia and a master's degree in International Relations from New York University. She has worked in nonprofits ranging from the New York Civil Liberties Union to the Outward Bound Center for Peacebuilding to the Georgia Center for Nonprofits and is committed to social justice and poverty alleviation worldwide.
When not at work, Ayla can be found going on road trips across the United States, hosting dinner parties for her friends and family, and working with newly settled refugee families in Atlanta.
---
Lifetime Honorary Board Member
Ann Stallard is a successful CEO, entrepreneur and committed community activist. Her success as a business person resulted in an extensive regional reputation for client service and selection by her peers for several prestigious awards.
Her commitment to community has led to increasingly important volunteer leadership roles on regional, national and international platforms.Over a 35-year career, she helped lead Graphic Communications Corporation from a trusted printing company to a multimillion-dollar provider of communication solutions; all within an industry that itself was going through upheaval and radical change. During that time, Ann consistently focused on utilizing the best technology possible in commercial printing, imaging and fulfillment. She was recognized by the Printing & Imaging Association of Georgia (PIAG) for her visionary innovation and advancement, especially among women and young people in the industry. Ann has also received numerous awards – in 2010 the Atlanta Business Chronicle named Ann as one of the 100 most influential people in metro Atlanta, and in 2005 Ann was the first woman CEO to receive the Turknett Ethical Leadership Award.
A graduate of Leadership Atlanta, Ann has served on many boards and has been appointed to several state commissions. Between 1991-1996 Ann served as president of the YWCA USA, and from 1996-2002 she served on the global board of the World YWCA in Geneva, Switzerland, representing 121 counties and 25 million women and girls. Ann co-founded the Women's Leadership Council of United Way with Dr. Johnnetta B. Cole and Anne Kaiser in 2000. This council is now a national force of more than 56,000 volunteers who raise $180 million annually. From 2009 – 2001, Ann was the Chairman of the Board of Trustees, United Way of America—the country's largest nonprofit with 1300 affiliates and a budget of $3.4 billion. During her tenure, United Way of America transformed into United Way Worldwide.
In 2012 Graphic Communications Corporation was sold and Ann entered a new phase by becoming a senior advisor for the Oxford Center for Entrepreneurs.
Ann often describes herself as a serial social entrepreneur who attempts to combine best business practices in order to improve a community's quality of life in fundamental ways. Ann believes that a symbiotic partnership between businesses, government and nonprofits holds the key to solving some of our most critical issues.